Narew
Narew (Old Prussian and Lithuanian Naura, Belarusian: На́раў) is a river in western Belarus and north-eastern Poland, a tributary of the Vistula river. With a length of 484 kilometres (36 in Belarus and 448 in Poland) it is the 5th longest Polish river. The basin is 75,175 sq. km (53,873 in Poland).
Narew originates in Belarus and flows into Zegrze Lake in Poland where it is joined by Bug River. The part between the lake and the Vistula River is usually referred to as Bugo-Narew. Its name comes from an Indo-European root *nr meaning water (see also Narva, Neretva, Nur and Ner).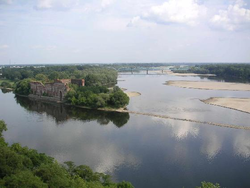 Cities and towns
History
On September 6, 1939, Polish military forces attempted to use the Narew as a defense line against German attack during the Polish September Campaign. This was abandoned the next day in favor of the Western Bug as German forces had already penetrated the defenses.
See also:
Template:Euro-geo-stub Template:Poland-geo-stubde:Narew lv:Nareva pl:Narew (rzeka)