United States dollar coin
From Academic Kids
Dollar coins have been minted in the United States in both gold and silver versions. Silver dollars were minted beginning in 1794.
The term silver dollar refers to any white metal coin issued by the United States with a face value of one dollar. Gold and gold-colored dollars have also been produced by the United States. The current Sacagawea dollar is usually referred to as "golden."
Dollar coins have found little popular acceptance in modern circulation in the United States, despite several attempts since the late 1970s to phase-in a coin in place of the one-dollar bill. This contrasts with many other currencies, where the one-unit denomination is only in coin, such as the Canadian "Loonie", British pound sterling, and Euro coin. The failure to simultaneously withdraw the dollar bill and weak publicity efforts have been cited by coin proponents as primary reasons for the failure of the dollar coin to gain popular support.
Early dollar coins (1794–1803)
The U.S. Mint produced silver dollar coins from 1794 to 1803, then stopped regular production of silver dollars until 1840. Original silver dollars from this period are highly prized by coin collectors and are exceptionally valuable, especially the 1804 silver dollar, which is one of the rarest and most famous coins in the world. The Mint ceased production of silver dollars in 1803, and the 1804 silver dollar was not actually minted until 1834, when the U.S. Department of State decided that a few coins with the unusual date of 1804 might make excellent gifts to rulers in Asia in exchange for trade advantages. Only 15 silver dollars with the date of 1804 are known to exist; in 1999, one of them sold at auction for over $4 million.
Gold dollar coins (1849–1889)
For a period of 40 years between 1849 and 1889, the U.S. also minted gold coins of a one-dollar denomination, the smallest denomination of gold currency ever produced in the United States. The design of the gold dollars presented unique problems, mostly related to size. The first $1 gold coin of 1849 was only 13 mm in diameter; at only three-quarters the size of the present-day dime, it was the smallest coin in U.S. history. Because the coin was so small, it was frequently lost and discarded, and many people refused to use such a coin. In 1854, the Mint increased the coin's diameter to 15 mm without increasing the weight, resulting in a coin that was noticeably larger but considerably thinner. This change resulted in virtually all the coins wearing down quickly in circulation, with their dates and designs fading rapidly into barely legible forms. In 1856, a new design was applied that resulted in a more durable coin.
The bust design on the coin's head side has commonly been described as an "Indian princess," and the gold dollar coin is known as the "Indian Head" dollar coin. However, historians have suggested that the design is actually based on a Roman marble figure, with the headdress added by the actual designer of the coin, James Barton Longacre.
The added durability of the new design did not increase its popularity, however, and mintages of the coin were low for most of the period of its production. It was finally discontinued in 1889.
Morgan dollar (1878–1921)
Main article: Morgan Dollar
Missing image
Morgan_dollar.jpg
Morgan silver dollars were minted between 1878 and 1921, with a notable break between 1905 and 1920. The 1921-dated coins are the most common, but there exists a substantial collector market for pristine, uncirculated specimens of the rarer dates and mint marks. Morgan dollars are second only to Lincoln Cents in collector popularity. The large size, design and inexpensive nature of most dates of the Morgan dollar makes them highly popular. The coin is named after George T. Morgan, its designer. Some people collect Morgan dollars by "VAM" designation. The top 100 VAM varieties are highly collectable.
The mint mark is found on the reverse below the wreath, above the 'O' in 'Dollar'.
The king of the Morgan dollars is the proof-only 1895 with no mint mark. These sell for $10,000 or more. Most early Morgan dollars from the Carson City mint (CC) are worth a premium. Other rare dates include 1892-S, 1893, 1893-O, 1893-S, 1894, 1894-S, 1895-O, 1895-S, 1902-S, 1903-S, 1903-O, and 1904-S all coming in over $100 in circulated (very fine) condition. Many coins exceed $100 in uncirculated condition, but the majority do not. A common date in uncirculated can normally be found for around $12, and often as little as $5 circulated and $8 uncirculated.
High-grade Morgan dollars could be considered "investor" coins. That is because the price is very volatile, and the prices set for certified ("slabbed") pieces are set on well-established exchanges. Sight-seen trading often exceeds these sight-unseen prices, but the fact that the sight-unseen prices are posted is seen as a boon to investors.
Peace dollar (1921–1935)
Main article: Peace Dollar
Missing image
Peace_dollar.jpg
Introduced in December of 1921, the Peace dollar, designed by medalist Anthony DeFrancisci, was promulgated to commemorate the signing of formal peace treaties between the United States on the one hand, and Germany and Austria on the other, thus officially ending America's World War I hostilities with these two countries. In 1922 the Mint made silver dollar production its top priority, causing other denominations to be produced sparingly if at all that year. Production ceased temporarily after 1928; original plans apparently called for only a one-year suspension, but this was extended by the Great Depression. Mintage resumed in 1934, but for only two years, as it turned out.
In 1964, a small run of Peace Dollars was produced, all at the Denver Mint; however, plans for completing this coinage were then abandoned and all those that had been minted were melted, with no known specimens being preserved or released either for circulation or collection purposes.
Eisenhower dollar (1971–1978)
Main article: Eisenhower Dollar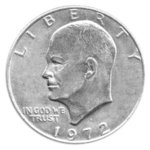 From 1971 to 1978, the US Mint issued dollar coins with the obverse depicting Dwight D. Eisenhower and the reverse the insignia of the Apollo 11 moon landing, both designed by Chief Engraver Frank Gasparro. The 1976 Bicentennial commemorative design, produced in 1975 and 1976, featured the Liberty Bell and the Moon on the reverse (designed by Dennis R. Williams), while retaining the Eisenhower obverse. These new dollars contained no silver or gold, but were instead composed of the same copper-nickel clad used for the dime, quarter, and half-dollar. This made the coins extremely resistant to wear and, like the smaller denominations, they still retain a good deal of shine even when subject to mass usage.
The coins were never very popular, primarily due to their large size and weight which made them difficult to carry over large distances.
Anthony dollar (1979–1981; 1999)
For the short duration of 1979 to 1981, the Mint produced Anthony Dollars, depicting Susan B. Anthony, the first real woman portrayed on circulating US coinage. (Many earlier circulating coins featured images of women, but the women depicted were all non-specific representations of Liberty, not real women. Also, Spain's Queen Isabella was portrayed along with Christopher Columbus on the 1893 Columbian Exposition commemorative half dollar, but it was not a circulating coin.) The Anthony dollars, like the Eisenhower dollars, were made from a copper-nickel clad.
Susan B. Anthony dollar coins were sometimes referred to as "Carter quarters." This was a snide reference to both the deterioration of the value of the dollar during Jimmy Carter's term and the Anthony dollar's strong physical resemblance to the quarter, often causing it to be mistakenly spent as such. They were quickly discontinued, but were resurrected for 1999 when the Mint decided its reserves of dollar coins were getting low. The Sacagawea dollar wouldn't enter production for another year, so the so-called "Carter quarter" saw a brief revival.
Sacagawea dollar (2000–present)
The Sacagawea dollar was authorized by Congress in 1997 because the supply of Anthony dollars, in inventory since their last mintage in 1981, was soon expected to be depleted. Delays in ramping up Sacagawea dollar production led to a final 1999-dated mintage of Susan B. Anthony dollars. While dollar coins are used infrequently in general commerce, they are used in place of tokens in some areas and are given as change in many United States Postal Service stamp vending machines, creating a relatively small but significant demand.
Save the Greenback, an organization of Bureau of Engraving and Printing employees and paper and ink suppliers, lobbied against replacing the paper dollar with the dollar coin[1] (http://www.bizjournals.com/charlotte/stories/2000/07/24/story3.html). Congress responded by including in Public Law 105-124 a provision that[2] (http://caselaw.lp.findlaw.com/casecode/uscodes/31/subtitles/iv/chapters/51/subchapters/ii/sections/section_5112_notes.html):
Nothing in this Act or the amendments made by this Act shall be construed to evidence any intention to eliminate or to limit the printing or circulation of United States currency in the $1 denomination.
In 2000, the General Accounting Office recommended that Congress eliminate that provision, estimating that "the $1 coin's advantage would be $522.2 million per year, once fully implemented"[3] (http://www.gao.gov/archive/2000/gg00111r.pdf). The GAO identified five essential elements that would be needed for a dollar coin to be successful:
The $1 note would have to be eliminated,
A reasonable transition period would be needed,
The $1 coin would have to be well designed and readily distinguishable from other coins,
An adequate public awareness campaign would be needed, and
Sustained administrative and congressional support would be necessary to withstand an initial negative public reaction to eliminating the $1 note.
The obverse was designed by artist Glenna Goodacre, using Shoshone Randy'L He-dow Teton as a model for Sacagawea [4] (http://www.usmint.gov/mint_programs/golden_dollar_coin/index.cfm?flash=yes&action=randy).
There are approximately 1 billion Sacagawea coins in circulation and about 250 million more in reserve. The US Mint greatly reduced production of Sacagawea Dollars after the 2001 minting, citing sufficient inventory. The Mint continues to produce circulation and proof quantities of the coin each year for sales to numismatists, as of 2004.
The United States Mint took great care to create the coin with the same size, weight, and electromagnetic properties as the Anthony dollar, but with a golden color. Unfortunately, the selected alloy has a tendency to tarnish quite severely in circulation (unlike Canadian dollar coins, which retain their yellowish appearance in circulation), ruining the "golden" effect. Being able to easily co-circulate the coin with the Anthony dollar was considered a higher priority than maintaining a consistent coloring, despite the fact that the Anthony dollar had virtually no circulation and many vending machines had to be recalibrated to accept the new coins anyway.
As of 2005, dollar coins are seldom encountered in commerce in the United States, except in vending machines dispensing tickets or tokens for rides on public transit vehicles in or near large cities (which offer the coins as change from a $5 or larger bill where necessary) and at casinos, where they are used in slot machines. However, the Sacagawea dollar has achieved popularity in Ecuador, where the US dollar is also the official currency.
As of mid-2005, Congress is considering the creation of a new $1 coin that would honor all the Presidents of the United States. Beginning in 2007, four new coins would be produced per year, honoring the Presidents in order of service. The Presidential $1 Coin Act is intended to create renewed interest in the coin like that seen during the 50 State Quarters program. [5] (http://money.cnn.com/2005/04/27/pf/new_dollar/index.htm)
See also United States Mint and United States coinage.
List of designs
Silver dollar designs
Silver dollar coins:

Flowing Hair 1794–1795
Draped Bust, Small Eagle 1795–1798
Draped Bust, Heraldic Eagle 1798–1804
Seated Liberty No Motto 1840–1866
Seated Liberty With Motto 1866–1873
Trade Dollar 1873–1883
Morgan Dollar 1878–1921
Peace Dollar (High Relief) 1921
Peace Dollar (Low Relief) 1922–1935

Copper-nickel dollar coins:
Gold dollar designs
Gold dollar coins:

Liberty Head 1849–1854
Indian Head Small Head 1854–1856
Indian Head Large Head 1856–1889

Manganese-brass "Golden" dollar coins:
Sources
External links