Umbrella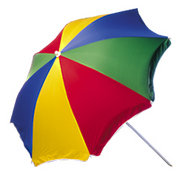 An umbrella is a device used for temporary shade or shelter from precipitation. They can be made by stretching a fabric or other material over a wire frame. Umbrellas carried by hand are now usually used as rain shields, although their first use was for shielding from the sun; however, as tans became more sociably acceptable, this usage declined.
An umbrella made for protection from the sun, is called a parasol. These are often meant to be fixed to one point and often used with patio tables or other outdoor furniture, or on the beach for shelter from the sun.
The word "umbrella" is from the Latin word "umbra" for shade or shadow.
"Brolly" is a slang word for umbrella, used often in Britain (both the word, and the object).

History
Main article: History of the umbrella
Depictions on ancient artifacts provide evidence that umbrellas have been in existence for over four thousand years. The civilizations of ancient Assyria, Egypt, Greece, and China all used umbrellas. It was not until the 16th century that the trend spread to Europe.
Missing image
Umbrella_with_raindrops.jpg
Missing image
Parasol0073.jpg
In England, umbrellas were only used by women until the practice was popularised by Jonas Hanway (1712-86). Having noted the custom in Portugal, in the 1750s he started to carry an umbrella regularly in London, and continued to do so for thirty years despite derision. Another pioneering Londoner was John MacDonald, who from 1778 used a silk umbrella when it rained. The use of "Hanways" by English gentlemen slowly spread, so that by 1790, their pioneering efforts had helped lift the English taboo against men carrying umbrellas.
Chinese umbrellas have traditionally been made of either oilpaper, or silk on a bamboo frame. Victorian era umbrellas had frames of wood or baleen, but these devices were expensive and hard to fold when wet. Samuel Fox invented the steel-ribbed umbrella in 1852. Modern designs usually employ a telescoping steel trunk. New materials such as cotton, plastic film and nylon often replace the original silk. They now are available in compact collapsible designs.
Related
In Unicode, the "Umbrella" symbol is U+2602; the "Umbrella with rain drops" is U+2614:
☂ ☔
External link