Trinity Church, New York
From Academic Kids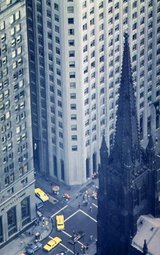 For other churches with this name, please see Trinity Church (disambiguation).
Trinity Church is a historic Anglican (now Episcopal) parish in New York City, with a church at the intersection of Wall Street and Broadway.
In 1696, Governor Benjamin Fletcher approved the purchase of land in Lower Manhattan by the Anglican community for construction of a new church. The parish received its charter from King William III of England on May 6, 1697. Its land grant specified an annual rent of one peppercorn due to the English crown.
The first church was constructed in 1698, with assistance from the pirate Captain Kidd. In 1705 Queen Anne of England increased the parish's land holdings to 215 acres (870,000 m²). In 1754 King's College (now Columbia University) was chartered by King George II of Great Britain and instruction began with eight students in a school building nearby the church.
During the American Revolutionary War the clergy were Loyalists, while the parishioners included members of the first and second Continental Congresses. The first church building was destroyed in 1776 by a fire that started in the "Fighting Cocks" Tavern, just six days after almost all the city's volunteer firemen had followed General Washington north. After British evacuation at war's end, the New York state legislature ratified the charter of Trinity Church in 1784, deleting the provision requiring loyalty to the King of England. The church began to hold services at St. Paul's Chapel, where George Washington attended thanksgiving services after his inauguration. (St. Paul's chapel is the oldest public building in continuous use in New York City.)
Construction on the second Trinity Church building began in 1788; it was consecrated in 1790. The structure was torn down after being weakened by heavy snows during the winter of 1838/1839.
Missing image
TrinityChurchView1872.jpg
The third Trinity Church was consecrated on May 21, 1846. It is a Gothic Revival structure designed by architect Richard Upjohn, and it dominated the skyline of New York: at the time of its completion its 281-foot spire and cross was the highest point in New York.
There are three burial grounds closely associated with Trinity Church. The first Trinity Church Cemetery is Trinity Churchyard, at Wall Street and Broadway, in which are interred Alexander Hamilton, William Bradford, Robert Fulton, and Albert Gallatin. The second is Trinity Church Cemetery and Mausoleum on upper Riverside Drive at 155th Street, formerly the location of John James Audubon's estate, in which are interred John James Audubon, Alfred Tennyson Dickens, John Jacob Astor, and Clement Clarke Moore. The third is the Churchyard of St. Paul's Chapel.
On July 9, 1976, the church was visited by Queen Elizabeth II of the United Kingdom, and she was presented with a symbolic "back rent" of 279 peppercorns.
The parish has a large number of realty holdings, including 26 commercial buildings in Lower Manhattan and 470 acres (1.9 km²) of land in Connecticut.
External links