Thomas Tallis
From Academic Kids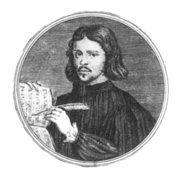 Thomas Tallis (ca. 30 January, 1505 – 23 November, 1585) was an English composer. He was appointed organist of Waltham Abbey about 1536, until the abbey was dissolved in 1540. He became a gentleman of the Chapel Royal in 1542, composing and performing for Henry VIII, Edward VI, Queen Mary, and Queen Elizabeth. He remained an avowed Catholic his entire life.
At the Chapel Royal he held the honorary title of organist, which he eventually shared with his distinguished student William Byrd. In 1575 the two composers obtained a license from Queen Elizabeth to print music and music-paper. He was also given lands valued at 30 pounds sterling per year by Elizabeth, as well as various tithes. He was buried in St Alfege's Church, Greenwich, London.
His prolific musical output includes many Masses and motets, as well as other music for the church. His best known composition is probably Spem In Alium, a magnificent motet for 40 independent voices; this amazing polyphonic tour-de-force is almost without parallel in the entire literature (a 40-voice motet by the Florentine composer Alessandro Striggio, from approximately the same time, may have inspired it). The motet's political meaning is also very obvious: if Elizabeth were to have heard this piece performed, she would have noted the instruction to "respect our humility", breathed out as an ominous warning by half the choir.
Other pieces worthy of note include his two sets of Lamentations (of Jeremiah the Prophet). Scored for five-part choir, they show a sophisticated use of imitation, and are noted for their expressiveness. The settings are of the first two lessons for Maundy Thursday. Tallis also sets the announcements ('Incipit Lamentatio...', and 'De Lamentatione...') the Hebrew letters that headed each verse (Aleph, Beth for the first set, Gimel, Daleth, Heth for the second) and the concluding refrain 'Ierusalem, Ierusalem... (Jerusalem, Jerusalem, turn again to the Lord thy God)—thus emphasising the sombre and melancholy effect of the pieces.
While Tallis seemingly preferred writing in a polyphonic manner, he was often required to write more homophonically and simply for the newly-established Church of England, particularly under the Protestant Edward VI. One of his most famous compositions in this manner is the four-part motet "If Ye Love Me". One of nine tunes Tallis composed in 1567 as part of Archbishop Parker's Psalter (the "Third Mode Melody") inspired the composition of Fantasia on a Theme by Thomas Tallis by Ralph Vaughan Williams in 1910.
Tallis's birthday is uncertain, but is generally agreed to be January 30.da:Thomas Tallis de:Thomas Tallis fr:Thomas Tallis nl:Thomas Tallis ja:トマス・タリス