Greenwich
From Academic Kids
This page is about Greenwich in England. For other uses see Greenwich (disambiguation)
Greenwich (pronounced 'gren-itch' , or by the locals) is a town, now part of the south eastern urban sprawl of London, on the south bank of the river Thames in the London Borough of Greenwich.
Sites of interest
The Royal Greenwich Observatory is located in Greenwich and the Prime Meridian passes through the building. Greenwich Mean Time was at one time based on the time observations made at the Royal Greenwich Observatory, before being superseded by Coordinated Universal Time. While Greenwich no longer hosts a working astronomical observatory, a ball still drops daily to mark the exact moment of 1pm (13:00), and there is a good museum of astronomical and navigational tools.
The observatory is situated in Greenwich Park, which used to be the grounds of the Royal Palace of Placentia. At the bottom of the park is the National Maritime Museum which also includes the Queen's House, designed by Inigo Jones. It is free to visit all these buildings. Greenwich also features the world's only museum dedicated to fans, the Fan Museum, in a Georgian townhouse at 10-12 Croom's Hill (fee payable).
The Cutty Sark (a clipper ship) is moored in a dry dock by the river. Nearby for many years was also displayed Gipsy Moth IV, the 54ft yacht sailed by Sir Francis Chichester in his single-handed, 226-day circumnavigation of the globe during 1966-67. In 2004 Gypsy Moth IV was removed from Greenwich for extensive restoration work to be followed by a return to the sea and a second sailing career.
By the Cutty Sark, there is a pedestrian tunnel, the Greenwich foot tunnel, to the Isle of Dogs. This comes out in Island Gardens, from where the famous view of Greenwich Hospital painted by Canaletto can be seen.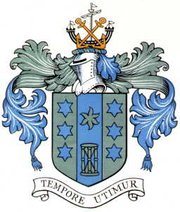 The Millennium Dome was built on a disused British Gas site here. It is next to North Greenwich tube station, about three miles from Greenwich town centre, north of Charlton.
The University of Greenwich and the Trinity College of Music are now based in the Greenwich Hospital (formerly the Royal Naval College) buildings between Greenwich Park and the river. These buildings were designed by Sir Christopher Wren and include the Painted Hall, painted by James Thornhill and St Paul's Chapel. These are also open to the public for free.
The church dominating the western side of the town centre is St Alfege's Church, designed by Nicholas Hawksmoor in 1714, and marks the place where Archbishop of Canterbury Alfege (also spelt 'Alphege') was murdered in 1012.
The town centre features Greenwich Market, a covered market popular with tourists at the weekends.
In 1997 maritime Greenwich was added to the list of World Heritage Sites.
In recognition of the suburb's astronomical links, Asteroid 2830 has been named 'Greenwich'.
Famous residents
Missing image
EastGreenwichLibrary.jpg
(in alphabetical order)
Transport
Missing image
Spanish_Galleon_Tavern.jpg
Nearby tube stations:
Nearby DLR stations:
Nearby railway stations:
See also
External links
Greenwich World Heritage site - official website (http://www.greenwichwhs.org.uk/world_heritage/index.asp)
Map (http://www.streetmap.co.uk/newmap.srf?x=538681&y=177906&z=2&sv=538681,177906&st=4&mapp=newmap.srf&searchp=newsearch.srf)de:Greenwich fr:Greenwich nl:Greenwich pl:Greenwich sl:Greenwich