Thierry Henry
From Academic Kids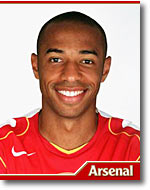 Thierry Henry (born August 17, 1977 in Les Ulis, Paris, France, pronounced tee-AIR-ee ON-ree) is a French international footballer. He usually plays as a striker, and currently plays for Arsenal F.C. in the English FA Premier league.One of the greatest attacking players in the world, Henry possesses utterly frightening speed.
Henry trained at the French Football Federation's academy at Clairefontaine, before starting his professional career at AS Monaco. He was given his debut by the then Monaco manager Arsene Wenger at the age of 17. He started playing on the wing, before moving to striker, which is now seen as his natural position.
He made his international debut in October 1997 against South Africa. He played in France's 1998 World Cup success, and was joint-top scorer for the French, with three goals; he also was part of the Euro 2000-winning squad, scoring a further three goals.
Having impressed in the 1998 World Cup, Henry moved to Italian giants Juventus in January 1999 for £14million, but was made to play as a winger. In an unfamiliar position, against the more disciplined Italian defences, he stagnated, scoring just three goals.
Unhappy in Italy, he transferred from Juventus in August 1999 to Arsenal for £10.5 million, and was reunited with his former mentor, Wenger. At Arsenal, Henry rediscovered the form which had made him such a highly-regarded prospect, and has won the Premiership twice and FA Cup three times with the club. As of May 2005, Henry is four goals short of Arsenal's all time scoring record (currently held by Ian Wright). Henry is regarded by many as the finest striker in the history of Arsenal football club.
Many people consider Henry to be the most exciting player to watch in world football. Although he plays as a striker, his versatility at all aspects of the game makes him more influential than a traditional striker, and he often drops deep to receive the ball from midfield. He creates as many goals as he scores. Amongst other things, Henry is well known for his exceptional pace and accurate finishing which puts him at, or near, the top of the Premiership top scorers list each season. He was runner up for the 2003 and 2004 FIFA World Player of the Year award.
Henry has been the star of television ads for Nike, Pro Evolution Soccer, Renault — once with his English model girlfriend Nicole Merry whom he married in 2003 — and will soon front adverts for Pepsi. On May 27th 2005, Henry celebrated the birth of his first child, Tea Henry.
Career stats
Total
League
Europe
Club
From
Until
Played
Goals
Played
Goals
Played
Goals
AS Monaco FC
Trainee 1990
January 1999
119
32
110
20
9
12
Juventus
January 1999
August 1999
16
3
16
3
0
0
Arsenal F.C.
August 1999
present
297
181
228
144
69
37
Figures for Arsenal correct to June 11, 2005
'League' encompasses all domestic competitions
External link