The Hermitage
From Academic Kids
For other places with similar names, see Hermitage.
Missing image
Andrew_Jackson_Tomb.jpg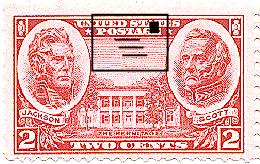 The Hermitage is a plantation located 12 miles east of downtown Nashville. The plantation was owned by Andrew Jackson, the seventh President of the United States from 1804 until his death at The Hermitage in 1845. Jackson only lived at the property occasionally until he retired from public life in 1837.
The original Hermitage mansion, a brick building in the Federal style, was built between 1819 and 1821. The structure was remodeled in 1831 and a Palladian facade was added. In 1834, fire seriously damaged much of the building. The current structure was completed in 1836.
The Hermitage is now a museum, both of Jackson's life and the antebellum South in general, and is open to the public. The tomb of Andrew and Rachel Jackson is located in the Hermitage garden.
The area of Davidson County, Tennessee surrounding the Hermitage is known as Hermitage, Tennessee, an unincorporated community.
External links