The Doors
From Academic Kids
For information on the architectural element, see Door.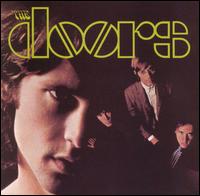 The Doors were a musical band of the 1960s and early 1970s, consisting of Jim Morrison (lead vocals), Ray Manzarek (organ, keyboard), Robby Krieger (guitar), and John Densmore (drums).
History of the band
Origins: 1965–1966
The group started in 1965 in Los Angeles, California, after a meeting between UCLA film school students Jim Morrison and Ray Manzarek. Morrison sang Manzarek some of his poetry and song lyrics including Moonlight Drive. Manzarek was already in a band called Rick And The Ravens while Krieger and Densmore were playing with The Psychedelic Rangers, but knew Manzarek from shared meditation instruction. The latter two, with a female bass player, were rapidly recruited and the band took up a number of club residences first at LA's London Fog and later the Whisky A Go-Go.
The band took their name from the title of a book by Aldous Huxley, The Doors of Perception, which was in turn borrowed from a line of poetry by the 18th century artist and poet William Blake: "If the doors of perception were cleansed, everything would appear to man as it truly is, infinite."
Early recording: 1967–1969
After being spotted by producer Paul A. Rothchild, the band were signed to the Elektra Records label beginning a long and successful partnership with Rothchild and engineer Bruce Botnick. Their self-titled debut LP featured most of the major songs from their set, including the ten-minute musical drama, "The End". With the band at the peak of their form and bristling with energy and ambition, the album was recorded in only a few days, almost entirely live in the studio, with most songs captured in a single take. Morrison and Manzarek also directed an innovative promotional film for the single "Break On Through", which was an important stepping stone in the development of the music video genre.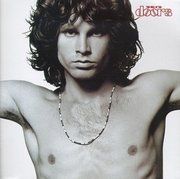 Released in January 1967, the album caused a sensation in music circles and the first single released from it, "Light My Fire", became a major hit, establishing the group alongside Jefferson Airplane and The Grateful Dead as one of the top new American bands of 1967. With his saturnine good looks, magnetic stage presence and skin-tight leather trousers, Morrison quickly became one of the major pop sex symbols of his day, although he soon became frustrated with the strictures of stardom.
The second Doors LP Strange Days was almost as strong as the first and it cemented the group's reputation. Their third LP Waiting For The Sun (1968) showed the band beginning to branch out from their initial format as they exhausted their original reportoire and began writing new material. It became their first #1 LP and the single "Hello, I Love You" was their second US #1 single. It also included the song "The Unknown Soldier", for which they created another superb self-directed music video, and "Not To Touch The Earth", excerpted from their legendary thirty-minute concept piece Celebration of the Lizard, although they were reportedly unable to record a satifactory version of the entire piece for the LP. In 1969, with the release of The Soft Parade, the band further augmented their sound with the use of a horn section, strings, and other sounds on choice tracks (their single, "Touch Me," featured saxophonist Curtis Amy).
To fans of the Doors, the music included socially, psychologically and politically charged lyrics mostly written by 'The Lizard King', Jim Morrison. The jazz drumming of John Densmore, the swirling keyboards of Ray Manzarek, whose left hand played the parts typically associated with bass guitar, and Robby Krieger's guitar playing, which showed the influence of flamenco, Indian, the blues and classical music, combined to form a distinctive sound. The Doors were unusual among rock groups in that they did not use a bass guitarist in concert, with Manzarek playing the bass lines on an Fender electric keyboard bass, an offshoot of the well-known Fender electric piano. However, guitarist Lonnie Mack guested on bass on several tracks on their Morrison Hotel LP and Jerry Scheff (longtime bassist for Elvis Presley) played bass on their L.A. Woman LP.
Many of the songs made by The Doors were done in a communal way, reflected Manzarek, with Morrison usually contributing the lyrics and some melody, while the others hammered out the beat and flow of the song. While Morrison and Manzarek were walking on the beach in California, they passed an African-American girl, and Morrison wrote the lyrics to Hello I Love You in a single night, referring to the girl as the "dusky jewel". The song received some criticism at the time for its resemblance to The Kinks' 1965 hit "All Day And All Of The Night".
Mid career controversy: 1969–1971
The Doors quickly earned a reputation as a challenging and entertaining live act, as well as having a rebellious reputation. In one appearance on September 17, 1967 with a live performance on the Ed Sullivan Show on the Columbia Broadcasting System network, the network's censors demanded the group change its lyrics in its song, Light My Fire, altering the line, "Girl we couldn't get much higher" to "Girl we couldn't get much better" because of what they said was a reference to drugs. However, Morrison sang the original line instead, and on live television with no delay CBS was powerless to stop it. Ed Sullivan was so furious that he refused to shake their hands and they were never invited back.
Morrison on stage gave a whole new life to a rock band on stage in concert, and Manzarek recalled that Morrison stopped being himself on stage and became more of a "whirling dervish", or shaman, showing things of a more primeval nature. Singer Grace Slick once recalled seeing Morrison at a concert, high on drugs, and so active that he needed to be pulled off stage.
In one known incident, at a 1969 concert in Miami, Florida, Morrison allegedly exposed himself. Misdemeanour and felony charges were brought against Morrison. The misdemeanour charges stuck. The incident remains inconclusive. Morrison said: "I wasted a lot of time with the Miami trial. About a year and a half. But I guess it was a valuable experience because before the trial I had a very unrealistic schoolboy attitude about the American judicial system. My eyes have been opened up a bit."
Missing image
JimMorrisonDoors.jpg
While Morrison as the lead singer received the most attention of the group, as well as getting a far larger image of himself on album covers, he was quite adamant about all the members of the group getting recognition. Before one concert when the announcer introduced the group as "Jim Morrison and The Doors", Morrison in a rage refused to appear unless he announced the group again, solely as "The Doors".
In the last two years of his life Morrison curtailed his former herculean intake of psychedelic drugs and began drinking heavily, which in turn soon began to affect his performance, both on stage and in the studio. Apparently trying to escape the image of "The Lizard King" that had come to dominate him, Morrison put on weight and grew a thick beard, forcing Elektra to use photos taken earlier in his career for the cover of their Absolutely Live LP, released in late 1969. The album features performances recorded on their 1968–69 American tours and includes a full-length live performance of "The Celebration Of The Lizard".
Their fourth album, The Soft Parade (1969) saw the band struggling to maintain momentum; an attempting to expand the group's sound with strings and brass, it is generally considered the least successful of their LPs with Morrison, who was by then developing a serious drinking problem and becoming increasinglly difficult and unreliable in the studio, with the result that sessions were now dragging on over weeks, where they had formerly taken days.
The group staged a strong return to form with their excellent 1970 LP Morrison Hotel and looked set to regain their crown as one of America's premier acts with the superb L.A. Woman in 1971. It was conceived as a "back to basics" album which would explore their blues and R&B roots, although during rehearsals the group had a serious falling-out with Rothchild. Denouncing the new reportoire as "cocktail music", he quit and handed the production reins to Botnick. The result was widely considered a classic, featuring some of the strongest material and performances since their 1967 debut. The atmospheric single "Riders On The Storm" became a mainstay of rock radio programming for decades.
Aftermath of Morrison's death: 1971–1989
In 1971, following the recording of L.A. Woman, Morrison decided to take some time out and with girlfriend Pamela Courson moved to Paris. Morrison died there in mysterious circumstances on 3 July 1971; his death was generally believed to be from a drug overdose (probably heroin), although it was later revealed that no autopsy had been performed before Morrison's body was buried at the Pere-Lachaise Cemetery.
Rumours persisted for many years that Morrison had faked his death to escape the spotlight, as did the rumour that Morrison had actually died at a Paris nightclub and that his body had been surreptitiously taken back to his apartment. However, in his book Wonderland Avenue, Morrison's former associate Danny Sugerman states that during his last meeting with Courson, which took place shortly before she too died of a heroin overdose, she confessed to Sugerman that she had introduced Morrison to the drug and that, because he had a fear of needles, she had injected him with the dose that killed him.
The remaining Doors continued for some time. After initially considering replacing Morrison with a new singer, Krieger and Manzarek took over on vocals, and released two more albums, Other Voices and Full Circle. While far from being a commercial failure, Other Voices was well reviewed but was also far from a smash record. The follow-up was a resounding critical and commercial failure, and after the release of Full Circle, the band split, feeling that it was just not right without Morrison.
The 1990s and beyond
In 1991 director Oliver Stone released his film The Doors, starring Val Kilmer as Morrison and with a cameo by Densmore. While many were amazed at Kilmer's impersonation, the film had numerous factual inaccuracies and members of the group later voiced displeasure at Stone's portrayal of Morrison, at times making him look like an out-of-control psycho.
In 2002 Manzarek and Krieger reunited and created a new version of The Doors, called The Doors 21st Century. In the place of Morrison, the new lineup was fronted by British vocalist Ian Astbury, former lead singer of UK band The Cult, with Angelo Barbera from Krieger's band on bass. At their first concert the group announced that drummer John Densmore would not perform, and it was later reported that he was unable to play because he suffered from tinnitus.
Densmore subsequently claimed that he had in fact not been invited to take part in the reunion. In February 2003 he filed an injunction against his former bandmates hoping to prevent them from using the name "The Doors". His motion was denied in court in May that year, although Manzarek publicly reiterated that the invitation for Densmore to return to the group still stood. It was also reported that both Morrison's family and that of Pamela Courson had joined Densmore in seeking to prevent Manzarek and Krieger from using The Doors' name.
Densmore was initally replaced by Stewart Copeland, formerly of The Police, but he withdrew after several performances and was replaced by Ty Dennis, drummer with Krieger's band.
The Doors are remembered for shamanistic live performances. Some people of the "establishment" thought that they were just mere American rock music rebels. Jim Morrison said: "I like any reaction I can get with my music. Just anything to get people to think. I mean if you can get a whole room full of drunk, stoned people to actually wake up and think, you're doing something."
Their enduring popularity is reflected by continuing sales of their early work.
Jim Morrison's metaphorical persona The Lizard King is explained with this link.
Discography
Albums

Singles
Break on Through (To The Other Side), January 1967, US #106
Light My Fire, April 1967, US #1
People Are Strange, September 1967, US #12
Love Me Two Times, November 1967, US #25
The Unknown Soldier, March 1968, US #39
Hello I Love You, June 1968, US #1; UK #15
Touch Me, December 1968, US #3
Wishful Sinful, March 1969, US #44
Tell All the People, May 1969, US #57
Running Blue, August 1969, US #64
You Make Me Real / Roadhouse Blues, March 1970, US #50
Love Her Madly, March 1971, US #11
Riders on the Storm, June 1971, US #14
Tightrope Ride, November 1971, US #71
Ships With Sails, January 1972
Get Up And Dance, July 1972
The Mosquito, August 1972, US #85
The Piano Bird, November 1972
Samples
References
See also
External links
da:The Doors de:The Doors es:The Doors eo:The Doors fr:The Doors it:The Doors li:Doors lt:The Doors hu:The Doors nl:The Doors ja:ドアーズ no:The Doors pl:The Doors pt:The Doors sv:The Doors