Oliver Stone
From Academic Kids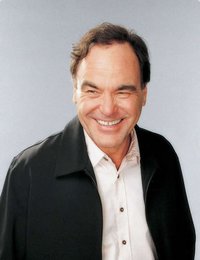 William Oliver Stone (born September 15, 1946 in New York City) is an Academy Award-winning American film director.
Stone attended The Hill School, Yale and the New York University. He has won two Academy Awards for Directing for Platoon and Born on the Fourth of July, as well as a best adapted screenplay oscar for Midnight Express, which he wrote but did not direct.
Other films he had a hand in the screenplays for are Conan the Barbarian (1982), Scarface (1983), Year of the Dragon (1985), 8 Million Ways to Die (1986) and Evita (1996). Stone has written or taken part in the writing of every film he has directed, except for U Turn (1997).
A distinct feature in Oliver Stone's movies is the use of a multitude of different cameras and film formats, from VHS to 8mm film to 70mm film.
Many consider Stone to be one of the best directors in Hollywood, although critics contend that Stone is a conspiracy theorist whos films both manipulate the viewer and distort history.
In 1999, the filmmaker pleaded guilty to drug possession and no contest to driving under the influence. He was ordered into a rehabilitation program. Stone was arrested again on the night of May 27, 2005 in Los Angeles on drug possession and driving while intoxicated charges.
Movies directed by Stone include
External links
es:Oliver Stone fr:Oliver Stone id:Oliver Stone it:Oliver Stone he:אוליבר סטון hu:Oliver Stone nl:Oliver Stone ja:オリバー・ストーン pl:Oliver Stone pt:Oliver Stone fi:Oliver Stone sv:Oliver Stone zh:奥利佛·斯通