Thai art
From Academic Kids
Thai art was traditionally primarily Buddhist. Sculpture was almost exclusively of Buddha images, while painting was confined to illustration of books and decoration of buildings, primarily palaces and temples.
Painting
Paintings depicted subjects in two dimensions, without regard to perspective. Instead, the size of each element reflected its degree of importance. The primary technique of composition was that of apportioning areas: the main elements were isolated from each other by space transformers. This eliminated the intermediate ground which would otherwise introduce perspective. Perspective was introduced only as a result of Western influence in the mid-19th century.
The usual subjects for paintings were the Jataka stories, episodes from the life of the Buddha, the Buddhist heaven and hell and scenes of daily life.
Sukhothai period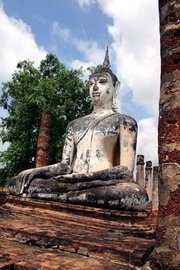 Buddha images of the Sukhothai period are elegant, with sinuous bodies and slender, oval faces. This style emphasised the spiritual aspect of the Buddha by omitting anatomical details. The effect was enhanced by the common practice of casting images in metal rather than carving them. This period saw the introduction of the "walking Buddha" pose. Sukhothai artists tried to follow the defining marks of a Buddha set out in ancient Pali texts:
Sukhothai also produced a large quantity of glazed ceramics in the sangkhalok style, which were traded throughout south-east Asia.
Ayutthaya period
Art of the Ayutthaya era can be divided into three periods. The early period is strongly influenced by Khmer art: Buddha images were carved primarily of stone, while painting used only red, black and white (blue and yellow were added later) and characterised by juxtaposed rows of Buddha figures. In the middle period, Sukhothai influence dominated, with large bronze or brick and stucco Buddha images and decoration of gold leaf in free-form designs on a lacquer background. The late period was more elaborate, with Buddha images in royal attire set on decorative bases.
Bangkok period
The Bangkok period was characterised by the continued development of the Ayutthaya style rather than by further great innovation. One important element was the Krom Chang Sip Mu (Organization of the Ten Crafts), originally founded in Ayutthaya, which was responsible for improving the skills of the country's craftsmen. Paintings from the mid-19th century show the influence of Western art.
Contemporary
Contemporary Thai art often combines traditional Thai elements with modern techniques. Notable artists include Chakrapan Posayakrit and Tawan Dachanee.
External link
Rama IX Art Museum (http://www.rama9art.org/) Virtual museum of Thai contemporary artists. Listings of museums, galleries, exhibitions and venues. Contains lots of information on Thai artists and art activities.