Territory of Hawaii
From Academic Kids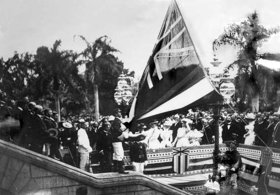 The Territory of Hawai'i, abbreviated officially as T.H., was established on 7 July, 1898 and dissolved on 21 August, 1959 when Hawai'i became a state. The U.S. Congress passed the Newlands Resolution which annexed the former Kingdom of Hawai'i and later Republic of Hawai'i to the United States. Hawai'i's territorial history includes a period from 1941 to 1944 when the islands were placed under martial law. Civilian government was dissolved and a military governor was appointed.
Provisional Government
Upon the overthrow of Queen Lili'uokalani in 1893, the Committee of Safety led by Lorrin A. Thurston established the Provisional Government of Hawai'i to govern the islands in transition to expected annexation by the United States. Thurston actively lobbied Congress while the monarchy, represented in Washington, D.C. by Princess Victoria Ka'iulani, argued that the overthrow of her aunt's government was illegal.
First annexation proceedings began when U.S. President Benjamin Harrison stepped down and Grover Cleveland took office. Cleveland was an anti-imperialist and believed that the American government was wrong to use its troops against a peaceably reigning sovereign. He mounted an inquiry and recommended the restoration of the Kalākaua.
Objecting to the return of power by Queen Lili'uokalani and later her heir Ka'iulani, the provisional government convened a constitutional convention in Honolulu to establish the Republic of Hawai'i. It was hoped that establishing a republican constitution would make it more difficult to restore the monarchy. Thurston was urged to become the nation's first president but he was worried his brazen personality would damage the cause of annexation. The more conservative former Supreme Court Justice and friend of Queen Lili'uokalani, Sanford B. Dole, was elected the first and only President of the new regime.
Manifest Destiny
When Cleveland stepped down from the American presidency in March of 1897, former U.S. Civil War soldier William McKinley took office. McKinley was an avowed imperialist and believed in increasing American prominence on the international stage.
McKinley's imperialist policies instigated the Spanish-American War and Americans were sent to fight in Cuba, Philippines, Puerto Rico and Spain in 1898. Hawai'i's strategic location for warfare in the Philippines made it clear to McKinley that he needed exclusive rights to Pearl Harbor. Not only did the Republic of Hawai'i give Pearl Harbor but also native Hawaiian troops.
By the end of the Spanish-American War, Queen Lili'uokalani proudly flew the U.S. flag for the first time over her residence at Washington Place. She maintained it was in honor of the flag for which her subjects lost their lives defending. It was the first acknowledgement by the monarchy that American annexation was inevitable and that she was ready to become an American herself.
McKinley enacted Manifest Destiny policies during his administration. Manifest Destiny was the philosophy that America was created to be expanded. Manifest Destiny answered the question: What is to become of Hawai'i and the newly acquired Philippines? One of McKinley's 1896 and 1897 campaign rallying cries was, "The Hawaiian Islands should be controlled by the United States and no foreign power should be permitted to interfere with them." According to McKinley and his allies in Congress, the Hawaiians and Filipinos were incapable of governing themselves and by virtue of the United States' superiority as a civilization, it had a divine moral obligation to govern over them and civilize them.
Newlands Resolution of 1898
On 7 July 1898, McKinley signed the Newlands Resolution (named after Congressman Frances Newlands) which officially annexed Hawai'i to the United States. A formal ceremony was held on the steps of 'Iolani Palace where the Hawaiian flag was lowered and the American flag raised. Dole was appointed Hawai'i's first territorial governor.
Missing image
Sanforddoleinauguration.jpg
The Newlands Resolution said, "Whereas, the Government of the Republic of Hawai'i having, in due form, signified its consent, in the manner provided by its constitution, to cede absolutely and without reserve to the United States of America, all rights of sovereignty of whatsoever kind in and over the Hawaiian Islands and their dependencies, and also to cede and transfer to the United States, the absolute fee and ownership of all public, Government, or Crown lands, public buildings or edifices, ports, harbors, military equipment, and all other public property of every kind and description belonging to the Government of the Hawaiian Islands, together with every right and appurtenance thereunto appertaining: Therefore, Resolved by the Senate and House of Representatives of the United States of America in Congress assembled, That said cession is accepted, ratified, and confirmed, and that the said Hawaiian Islands and their dependencies be, and they are hereby, annexed as a part of the territory of the United States and are subject to the sovereign dominion thereof, and that all and singular the property and rights hereinbefore mentioned are vested in the United States of America."
The Newlands Resolution established a five-member commission to study which laws were needed in Hawai'i. The commission included: Territorial Governor Dole (R-HI), U.S. Senators Shelby M. Cullom (R-IL) and John T. Morgan (R-AL), Congressman Robert R. Hitt (R-IL) and former Hawai'i Chief Justice and later Territorial Governor Walter F. Frear (R-TH). The commission's final report was submitted to Congress for a debate which lasted over a year. Congress raised objections that establishing an elected territorial government in Hawai'i would lead to the admission of state with a non-white majority.
Organic Act
Congress finally agreed to grant Hawai'i a popularly elected government of its own and McKinley signed a law, An Act to Provide a Government for the Territory of Hawai'i, also known as the Hawaiian Organic Act of 1900.
The Organic Act established the Office of the Territorial Governor, an office appointed by the sitting American president and was usually from his own political party. The territorial governor served at the pleasure of the president and could be replaced at any time.
Territorial Governors

The Organic Act created the territorial legislature, charged with proposing legislation and passing laws, and a supreme court led by a chief justice, charged with interpreting laws. A bicameral body, the legislature was comprised of the House of Representatives and Senate. Members of the legislature were elected by popular vote. Congressional representation was limited to a single non-voting delegate.
Congressional Delegates
Tourism begins
Missing image
Matsonhawaiiad.jpg
Hawai'i's tourism industry began in 1882 when Matson Navigation Company, founded by Captain William Matson, began sailing vessels between San Francisco and Hawai'i carrying goods. His transports encouraged him to purchase passenger steamships that would carry tourists hoping to vacation in Hawai'i from the mainland United States.
Matson's fleet included the S.S. Wilhelmina, rivaling the best passenger ships serving traditional Atlantic routes. With the boom in interest of Hawaiian vacations by America's wealthiest families in the late 1920s, Matson added the S.S. Mariposa, S.S. Monterey and S.S. Lurline (one of many Lurlines) to the fleet.
Matson Navigation Company opened two resort hotels in Honolulu near royal grounds. The first (and for a time the only) hotel on Waikīkī was the Moana Hotel which opened in 1901. As the first hotel in Waikīkī, the Moana Hotel was nicknamed the "First Lady of Waikīkī." The hotel gained international attention in 1920 when Edward, Prince of Wales and future King Edward VIII of the United Kingdom, stayed as a guest.
In 1927, the Royal Hawaiian Hotel, informally called the "Pink Palace of the Pacific," opened for business. It was the preferred Hawaii residence of U.S. President Franklin D. Roosevelt during World War II. Both the Moana Hotel, now called the Moana Surfrider Hotel, and Royal Hawaiian Hotel are each a registered National Historic Landmark.
Military bases
With annexation, the United States saw Hawai'i as its most strategic military asset. McKinley and his successor U.S. President Theodore Roosevelt expanded the military presence in Hawai'i and established several key bases, some still in use today. By 1906, the entire island of O'ahu was being fortified at the coastlines with the construction of a "Ring of Steel," a series of gun batteries mounted on steel coastal walls. One of the only surviving batteries completed in 1911, Battery Randolph, is today the site of the Hawai'i Army Museum.
List of Territorial Installations:
Industrial boom & Big Five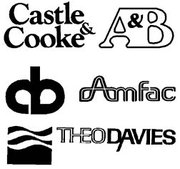 As a territory of the United States, sugarcane plantations gained a new infusion of investment. By getting rid of tariffs imposed on sugarcane producers by the United States, planters had more money to spend on equipment, land and labor. Increased capital resulted in increased production. Five kingdom-era corporations benefited from annexation, becoming multi-million dollar conglomerations overnight: Castle & Cooke, Alexander & Baldwin, C. Brewer & Co., Amfac, Theo H. Davies & Co. Together, the five companies ruled the Hawaiian economy as the "Big Five."
Big Five corporations together became a single dominating force in Hawai'i. The companies did not compete with each other but rather cooperated to keep the prices on their goods and services high. Their profits skyrocketed even more. Soon, the executives of the Big Five sat on each others' boards of directors. With economic power came political power over Hawai'i. They took to illegal methods to maintain a political foothold. They often threatened the labor force to vote in their favor. Plantation managers hung pencils over voting booths. The way the pencil swayed indicated how the laborer voted. Retaliation for voting "the wrong way" was common.
During the territorial era, Hawai'i slowly became an oligarchy governed by the Big Five. They made sure only whites and Republicans ran government in Hawai'i. During the rule of the Big Five, it was almost impossible to win an election in Hawai'i as a Democrat.
Pineapple
James Dole, also known as the Pineapple King, arrived in Hawai'i in 1899. He purchased land in Wahiawā and established the first pineapple plantation in Hawai'i. Believing that pineapples could become a popular food substance outside of Hawai'i, Dole built a cannery near his first plantation in 1901. Hawaiian Pineapple Company, later renamed Dole Food Company, was born.
With his business climbing in profits, Dole expanded and built a larger cannery in Iwilei near Honolulu Harbor in 1907. The Iwilei location made his main operations more accessible to labor. The cannery at Iwilei was in operation until 1991. Actress and performer Bette Midler was one of its most famous employees.
Dole found himself in the midst of an economic boom industry. Demands for his pineapple grew and Dole needed to grow more. In 1922, Dole purchased the entire island of Lāna'i and transformed the desert landscape into the largest pineapple plantation in the world. For a long stretch of time, Lanai would produce 75% of the world's pineapple and become immortalized as the "Pineapple Island."
By the 1930s, Hawai'i became the pineapple capital of the world and pineapple production became its second largest industry. After World War II, there were a total of eight pineapple companies in Hawai'i.
Race relations
Missing image
Massietrial.jpg
One of the most prominent challenges territorial Hawai'i had to face was race relations. By the time Hawai'i became a territory, much of Hawai'i's population was made up of plantation workers from China, Japan, Philippines and Portugal. There was a substantially large native Hawaiian population that also shared in the work. Their plantation experiences molded Hawai'i to become a plantation culture. The Hawaiian Pidgin language was developed on the plantations so they all could understand each other. They shared each others' food and traditions. Buddhism and Shintoism grew to become some of Hawai'i's largest religions. Catholicism became Hawai'i's largest Christian denomination. Hawai'i was diverse and the many ethnicities lived more or less harmoniously.
Massie Trial
Race relations in Hawai'i took to the national spotlight on September 12, 1931 when Thalia Massie, a U.S. Navy officer's wife, got drunk and alleged that she was beaten and raped. That same night, the Honolulu Police Department stopped a car and detained five men, all plantation boys. Officers took the men to Massie's hospital bedroom where she identified them. Many analysts today say she was mistaken, pinning the crime on them because they were ethnics. Although evidence couldn't prove that the men were directly involved, national newspapers were quick to run stories about the brute locals on the prowl for white women in Hawai'i. The jury in the initial trial could not reach a verdict. One of the accused was afterwards severely beaten, while another, Joseph Kahahawai, was forced into a car and shot dead.
Police caught the Kahahawai killers: Massie's husband Thomas, mother Grace Fortescue, and two sailors. Famed criminal lawyer Clarence Darrow defended them. A jury of locals found them guilty and sentenced to hard labor for ten years. Outraged by the court's punishment, the territory's white leaders as well as 103 members of Congress signed a letter threatening to impose martial law over the territory. This pressured Governor Lawrence M. Judd to commute the sentences to an hour each in his executive chambers. Hawai'i residents were shocked and all of America reconsidered what they thought of Hawai'i's racial diversity.
Statehood foiled
In 1935 and 1937, Congress began deliberation over whether or not Hawai'i should be granted statehood. Southern states were outraged at the notion that Congress would allow for a non-white majority territory to be afforded the rights given to Americans on the mainland. Statehood was postponed indefinitely over the question of race.
Martial law
Missing image
Iolanipalacemartiallaw.jpg
From 1941 to 1944, Territorial Governors Joseph B. Pointdexter and Ingram M. Stainback stripped themselves of their administrative powers by declaring Martial Law. With the territorial constitution suspended, the legislature and supreme court were also dissolved indefinitely. Military law under the Uniform Code of Military Justice was enforced on all residents of Hawai'i. A military governor from the Judge Advocate General's Corps assumed control of Hawai'i and governed from 'Iolani Palace, which was quickly barricaded and fitted with trenches.
Under Martial Law, every facet of Hawaiian life was under the control of the military governor. His government fingerprinted all residents over the age of six, imposed blackouts and curfews, rationed food and gasoline, censored the news and media, censored all mail, prohibited alcohol, assigned business hours, and administered traffic and special garbage collection. The military governor's laws were called General Orders. Violations meant punishment without appeal by military tribunals.
List of Military Governors:
Maj. Gen. Thomas H. Greene, U.S. Army Judge Advocate General's Corps, (1941-1944)
Statehood
After failing in 1935 and 1937 to convince Congress Hawai'i was ready for statehood, Hawai'i resurrected the campaign in 1940 by placing the statehood question on the ballot. Two-thirds of the electorate in the territory voted in favor of joining the Union. After World War II, the call for statehood was repeated with even larger support, even from some mainland states. The reasons for the support of statehood were clear:
Hawai'i wanted the ability to elect its own governor
Hawai'i wanted the ability to elect the president
Hawai'i wanted an end to taxation without voting representation in Congress
Hawai'i suffered the first blow of the war
Hawai'i ethnics, especially the Japanese, proved their loyalty having served on the European frontlines
Hawai'i consisted of 90% American citizens, most born in the U.S.
A former officer of the Honolulu Police Department, John A. Burns was elected Hawai'i's delegate to Congress in 1956. A Democrat, Burns won without the white vote but rather with the overwhelming support of Japanese and Filipinos in Hawai'i. His election proved pivotal to the statehood movement. Upon arriving in Washington, D.C., Burns began making key political maneuvers by winning over allies among Congressional leaders and state governors. Burns' most important accomplishment was convincing Senate Majority Leader Lyndon B. Johnson (D-TX) that Hawai'i was ready to become a state.
In March 1959, both houses of Congress passed the Admission Act and U.S. President Dwight D. Eisenhower signed it into law. (The act excluded Palmyra Atoll, part of the Kingdom and Territory of Hawai'i, from the new state.) On June 27 of that year, a plebiscite was held asking Hawaiians to vote on accepting the statehood bill. Hawai'i voted 17 to 1 to accept. On August 21, church bells throughout Honolulu were rung upon the proclamation that Hawai'i was finally the 50th state of the Union.
See also
Further reading
Thomas H. Green, The Papers of Major General Thomas H. Green, Judge Advocate Generalís Corps, U.S. Army, University Publications of America, 2001
External links