Tehachapi Pass
From Academic Kids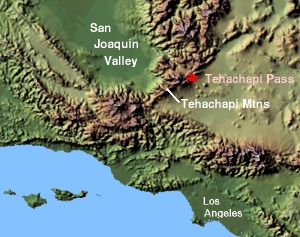 Tehachapi Pass (elevation 3793 ft/1156 m, location Template:Coor dms) is a mountain pass in southern California in the United States. It is located at the northeast end of the Tehachapi Mountains where they connect to the southern end of the Sierra Nevada mountains. The pass effectively marks the southern end of the Sierra. The pass connects the San Joaquin Valley to the Mojave Desert. It is crossed by California State Highway 58. Railroading's Tehachapi Loop is found a few miles west of the pass.
The Tehachapi Mountains are also crossed by Tejon Pass at the southern end.
The area around its east and south is also home to one of California's larger Wind turbine farms, generating electricity. The turbines have been in place since the early 1980s and have been upgraded through the years. The original wind turbines were much smaller than the much taller and larger new version turbines now sited for use. They are easily seen from California State Route 58 and from Tehachapi-Willow Springs Road.
Other well-known wind turbine locations in the state include Altamont Pass and the San Gorgonio Pass, near Palm Springs.ja:テハチャピ峠