Tehachapi Mountains
From Academic Kids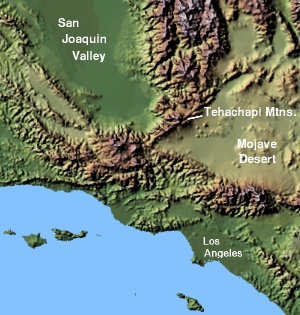 The Tehachapi Mountains are a short transverse range in southern California in the United States, running SW-NE to connect the Coast Ranges on the west with the southern end of the Sierra Nevada mountains on the east. The range extends for approximately 40 mi (64 km) SW-NE in southern Kern County southeast of Bakersfield and vary in height from approximately 4,000 ft (1,220 m) to 8,000 ft (2,440 m).
Description
The range forms a barrier separating the San Joaquin Valley to the northwest and the Mojave Desert in the Great Basin to the southeast. The range is crossed by Tejon Pass at its southwestern end (providing the route for Interstate 5). This dramatic incline downhill to the San Joaquin Valley floor is regionally referred to as The Grapevine because of the grapevines still found on the earlier route on the mountain slope next to the highway and because of its winding and curving shape, resembling a grape vine. The less geographically dramatic Tehachapi Pass found on California State Highway 58 is at its northeastern end. It is also crossed by the California Aqueduct that supplies water from the Colorado River to the Central Valley. The Los Angeles Aqueduct flows along the southern edge of the mountains. The Tehachapi Loop provides a major railroad link across the mountains and is considered an engineering marvel.
The Tehachapis, though not a long or high mountain range as California mountain ranges go, are regarded by many Californians the dividing feature that separates northern California from southern California (though some contend that southern California extends as far north as the Fresno area). Because the Ridge Route auto highway was constructed across these mountains and the ranges south of it in the early 20th century, many historians say California averted a potential split into two separate states - North California and South California.
The Monolith cement works, which supplied cement for the construction of Hoover Dam, among other major public works, is situated in the Tehachapis east of Tehachapi Pass.ja:テハチャピ山脈