St Martin-in-the-Fields
From Academic Kids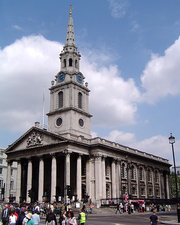 Missing image
St_martin_in_the_fields_interior.jpg
Missing image
Stmartins_1562.jpg
Missing image
2005-06-19_-_United_Kingdom_-_England_-_London_-_Cafe_in_the_Crypt.jpg
St Martin-in-the-Fields is a Church of England church just northeast of Trafalgar Square in the City of Westminster, London.
The earliest reference to the church is recorded in 1222, with a dispute between the Abbot of Westminster and the Bishop of London as to who had control over it. It was decided in favour of Westminster, and used by the monks of Westminster Abbey. The church was rebuilt by Henry VIII in 1542. At this time, it was literally "in the fields" in an isolated position between the cities of Westminster and London.
The church survived the Great Fire of London due to its isolated position, but was replaced with a new building, designed by James Gibbs in 1721. The design was criticised widely at the time but subsequently became extremely famous, being copied particularly widely in the United States. The church is essentially rectangular, with a great pediment in the Classical style supported by a row of huge Corinthian columns. The high steeple is topped with a gilt crown.
The church has a close relationship with the Royal Family – King George I was a churchwarden and Queen Mary attended regularly – and with the Admiralty, which falls within its parish. The White Ensign of the Royal Navy hangs above the altar, accompanied by the flag of the Admiralty Board. Traditionally the church's bells are rung to proclaim a naval victory.
A number of notables are buried in the church, including Robert Boyle, Nell Gwynne, William Hogarth, Sir Joshua Reynolds, Jack Sheppard and Thomas Chippendale.
St Martin-in-the-Fields is today well known for its "open door" policy under which the church is open to the public at all times of the day and night, its work for the homeless, and its occasional free lunchtime concerts. Its orchestra and choir are world-famous.
Many today famous ensembles performed at the church, including the Academy of St Martin-in-the-Fields and New Trinity Baroque.
There is a café in the Crypt; it also houses the London Brass Rubbing Centre.
External links
See also