Snoop Dogg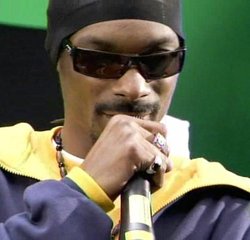 Calvin Cordozar Broadus (born October 20, 1972 in Long Beach, California) is an African-American hip hop musician and actor. His mother nicknamed him "Snoopy" as a child, and he took the stage name Snoop Doggy Dogg (later, Snoop Dogg) when he began recording. The Snoop Dogg name was adopted when he signed for No Limit Records. He has also been called "Big Snoop Dogg".
Biography
Template:Mergefrom Snoop Dogg was frequently in trouble with drugs and the law as a young man. As a member of a gang known as the Crips, Snoop Dogg was in and out of jail for the three years after he graduated from high school. He began making homemade rap tapes with his friend Warren G, who was a stepbrother of Dr. Dre of N.W.A.. Dr. Dre began collaborating with the young rapper, first on the theme song of the film Deep Cover, and then on Dr. Dre's debut solo album The Chronic.
Snoop Dogg's contribution to The Chronic was considerable: the rapper's rhymes were as present as Dre's. The huge success of Snoop's debut Doggystyle is largely due to this intense exposure.
While recording his own debut album Doggystyle with Dre in August of 1993, Snoop Dogg was arrested in the shooting death of Phillip Woldermarian, a member of a rival gang who was later revealed to have had a secret obsession with Snoop (see stalking). He was eventually acquitted on both self defense grounds and because he allegedly drove the car while his bodyguard McKinley Lee fired the fatal shots (Lee was also acquitted on self defense grounds). Snoop remained entangled in the legal battles around the case for three years.
The Doggystyle album was released in November of 1993 on Death Row Records, and became the first debut album ever to enter the charts at number one, helping to fuel the ascendance of West Coast "G Funk" rap. The singles "What's My Name" and "Gin and Juice" went to the top ten, and the album remained in the charts for several months, even as controversy raged over the murder trial and his allegedly violent and sexist lyrics. Gangsta rap became the center of arguments for censorship and labeling, with Snoop often used as an example of violent and misogynistic musicians.
A short film about the trial called Murder Was The Case, and an accompanying soundtrack, were released in 1994. It is said, to Snoop's distress, that a lot of the hype surrounding his debut was generated by his well-publicized trial. Others argue that the Death Row crew knew that any publicity is good publicity, as this film was directed by Dr. Dre himself.
However, by the time Snoop's second album Tha Doggfather was released in November of 1996, both the furor and the popularity of gangsta rap had begun to fade, dragged down by the death of Snoop's friend Tupac Shakur and the racketeering indictment of Death Row co-founder Suge Knight. Dr. Dre had left Death Row earlier that year, and so Snoop co-produced the album himself with Dat Nigga Daz and DJ Pooh. Missing just Dr. Dre's signature G-Funk sound might not have been such a great blow to this album's reception, if it had not been for earlier mentioned circumstances, thus the album 'only' sold around 2 million copies.
He has since drawn back a bit from hardcore gangsta rap, performing with the hard rock Lollapalooza tour in 1997, and making several film appearances, in addition to producing and directing music videos for himself and other artists. He released an autobiography in 2001. During this period he released two albums on the No Limit Label. His last album on No Limit was 2000's Tha Last Meal. It featured a more laid-back style with a heavier emphasis on his 'pimp' lifestyle as opposed to his gangbanging lyrics on previous albums.
In 2002, he announced that he was giving up drinking and drugs. Later that year he released the album Paid tha Cost to Be da Bo$$, which featured the hit singles and videos "From Da Chuuuch to Da Palace" and "Beautiful," featuring guest vocals by the Neptunes' Pharrell Williams.
Snoop Dogg has worked with Silkk the Shocker, C-Murder, B-Legit, Babyface, Bad Azz, Bizzy Bone,Young Bellz, Mariah Carey, Bootsy Collins, The D.O.C., Daz Dillinger, Dr. Dre, Nate Dogg, and The Neptunes, among others. Snoop Dogg's sound has been heavily influenced by funk, and R&B. Snoop Dogg's music features samples from earlier black artists and groups, including James Brown, Marvin Gaye, and Parliament.
Missing image
SnoopDogg.jpg
Picture from music video for "From Da Chuuuch to Da Palace"


On 11 April 2003, Snoop was unhurt after a drive-by shooting on Fairfax Avenue in Los Angeles, California. He was riding in a motorcade of five vehicles with seven armed bodyguards when three men in another car fired multiple rounds from a semi-automatic handgun. One bodyguard was injured in the incident. [1] (http://www.eonline.com/News/Items/0,1,11608,00.html?tnews)
On 21 May 2004, Snoop Dogg filed for divorce from his wife Shante Broadus, citing irreconcilable differences. He is seeking joint custody of their three children, Corde, Cordell, and Cori. They have since reconciled.
Later on in the year, he recollaborated with his old friends Nate Dogg and Warren G, as part of the rap group 213 (who had previously released an album about a decade before), and they released a new album called The Hard Way, which featured the single "Groupie Luv", and reached #4 in the US Billboard 200 album charts.
Snoop Dogg is famous for using slang invented by fellow rapper E-40, much of which is simply derived by adding an "izz" or "izzle" sound to the word. Some examples:
Fo' Shizzle = for sure, the real thing
Nizzle = nigga, perhaps an attempt at making it more palatable by altering it
Mr. Dizzle = Himself (He would on his MTV show)
Death Rizzow = Death Row ("Gz And Hustlas" off "Doggystyle")
Nate Dizzle = Nate Dogg ("Ditty Dum Ditty Doo" off Nate Dogg's "Music And Me")
A large number of Snoop Dogg's songs mention "the LBC." This is a reference to the city of Long Beach, California, or to the Long Beach Crips.
In 2004 Snoop signed to the Star Trak record label, headed by the Neptunes and they produced all of the tracks for his 2004 release R&G: Rythm & Gangsta The Masterpiece. "Drop It Like It's Hot", the first single featuring Pharrell was a hit, and became his first single to reach number one. His third release Signs featuring Justin Timbelake & Charlie Wilson didn't do as well but shows Snoop is such a respescted rapper that he can do a song with a pop singer and not have it dent his career (also partly due to the neptunes production)
As with quite a few rappers, the majority of his songs made it further up the UK Singles Chart than they did other charts.
During the 2004 Christmas season, he was featured in a series of television commercials for T-Mobile, promoting the T-Mobile Sidekick, the company's version of the Danger Hiptop mobile phone and Internet device.
In early February 2005, Snoop Dogg offered to pay for the funeral of Devin Brown[2] (http://kcal9.com/localnews/localnewsla_story_039220921.html), as well as any rallies against the LAPD.
Snoop Dogg also has done a remix of the song "Riders on The Storm" by "The Doors" in the Need For Speed Underground 2 Soundtrack.
Discography
"What's My Name?" (1993) #8 US; #20 UK
"Gin and Juice" (1993) #8 US; #39 UK
"Doggy Dogg World" (1994) #32 UK
"Snoop's Upside Your Head" (1996) #12 UK
"Vapors" (1997) #18 UK
"We Just Wanna Party with You" (feat. JD) (1997) #21 UK
"Tha Doggfather" (1998) #36 UK
"Still a G Thang" (1998) #19 US
"From tha Chuuuch to da Palace" (2002) #27 UK
"Beautiful" (feat. Pharrell) (2003) #6 US; #23 UK
"Drop It Like It's Hot" (feat. Pharrell) (2004) #1 US; #10 UK
"Let's Get Blown" (feat. Pharrell) (2005) #54 US; #13 UK
"Signs" (feat. Charlie Wilson and Justin Timberlake) (2005); this song interpolates some lyrics from the Gap Band song Early in the Morning. #46 US; #2 UK
Filmography
As well as starring and producing films Snoop Dogg now plays a character in the Fear & Respect video game.
TV series appearances
External links