Smalandia
From Academic Kids
Smalandia (Småland, literally "Small Country") is a historical Province (landskap) in southern Sweden. It borders Blechingia, Scania, Hallandia, Westrogothia, Ostrogothia and the island province of Oelandia, which is in the Baltic Sea.
Population
The population of Smalandia as of 2004 is 708,896. It distrubutes over five counties as follows:
Counties
For current affairs see: Counties of Kronoberg, Kalmar and Jönköping
The province of Smalandia is divided into the counties of Kronoberg, Kalmar and Jönköping. Smaller areas of Smalandia belongs to the counties of Halland and Östergötland.
History
Main article: History of Smalandia
During medieval times, the town of Kalmar was the largest town in Sweden, when it was a center for export of iron, which, in many cases, was handled by German merchants.
Smalandia was the center of several peasant rebellions, the most successful of which was Dackefejden led by Nils Dacke in 1542-1543. When officials of King Gustav I were assaulted and murdered, the King sent small expeditions to pacify the area, but all failed. Dacke was in reality the ruler of large parts of Smalandia during the winter, though heavily troubled by a blockade of supplies, before finally being defeated by larger forces attacking from both Westrogothia and Ostrogothia. Dacke himself was shot while trying to escape to then-Danish Blechingia.
In the 19th century, Smalandia was characterized by poverty, and had a larger portion of emigrants than other parts of Sweden. The majority of emigrants ended up in Minnesota, which has a geography resembling that of their homeland, mixing arable land with forest and lakes.
In the 20th century, Smalandia has been known for its high level of entrepreneurship and low unemployment. Some suspect the harsh conditions have forced the inhabitants of the region to invent and cooperate. Most notably, the worldwide furniture store chain IKEA was started here in the 1950s by Ingvar Kamprad, who still controls it. It is also the name of the kindergarten at IKEA stores (at least in the Netherlands).
Geography
Main article: Geography of Smalandia
Small Countries
Traditionally a historical province is representative of a separate country before the unification of Sweden. "Småland", however, consists of several smaller countries in one single province. The name literally means Small Countries.
Upon integration with the rest of the realm Smalandia was divided into chartered cities and into hundreds.
Cities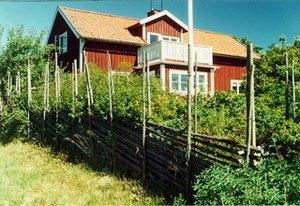 Hundreds

The geography is dominated by a forested high plain where the soil is mixed with sand and small boulders, making the area less suited for agriculture than the surrounding parts of Sweden.
National Parks
Culture
Main article: Culture of Smalandia
The Swedish botanist Carolus Linnaeus or Carl von Linné (1707-1778), often called the father of taxonomy or king of flowers, was born in Småland. The provincial flower Linnea (Latin: Linnea Borealis, English: Twinflower) is named after him.
The emigration venture of the 19th century is best depicted in the suite of novels by Swedish author Vilhelm Moberg, which is also the basis for the musical "Kristina from Duvemåla" by ex-ABBA musicians/composers Benny Andersson and Björn Ulvaeus.
Children's book author Astrid Lindgren often portrayed scenes from her own childhood growing up on a farm in Smalandia, in her writing.
Heraldry
Main article: Heraldry of Smalandia
The current coat of arms was granted in 1569 and pictures a rampant red lion on a golden shield carrying a crossbow. The arms is represented with a dukal coronet. Blazon: "Or a lion rampant Gules langued and armed Azure holding in front paws a Crossbow of the second bowed and stringed Sable with a bolt Argent."
Dukes of Smalandia
Since 1772, Swedish Princes have been created Dukes of various provinces. This is solely a nominal title.
External links
Visit Småland (http://www.visit-smaland.com/) - Official tourist site (Kronoberg and Jönköping counties)
Eastern Småland and Öland (http://www.smaland-oland.com/english/) - Official tourist site (Kalmar County)
de:Småland