Simon Wiesenthal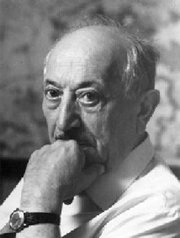 Simon Wiesenthal (born December 31, 1908 in Buczacz, Austria-Hungary, in an area which is now part of Ukraine) is a retired Austrian Nazi hunter. Wiesenthal dedicated most of his life to tracking down and gathering information on fugitive Nazi war criminals so that they could be brought to trial.
Simon Wiesenthal is an architectural engineer by training. He received his degree from the Technical University of Prague in 1932 after being declined admission to the Polytechnic University of Lvov as a result of quota restrictions on Jewish students. In 1936 he married Cyla Mueller. Wiesenthal was living in Lvov, Poland at the outbreak of World War II. As a result of the Molotov-Ribbentrop Pact, Lvov was occupied by the Soviet Union. Wiesenthal's stepfather and stepbrother were killed at the hands of the NKVD, the Soviet Secret Police, and Wiesenthal himself was forced to close his firm and work in a factory. When Germany invaded the Soviet Union in 1941, Wiesenthal and his family became caught up in the Nazi Final Solution. Wiesenthal's wife was able to hide her Jewish identity from the Nazis because of her blonde hair and the false papers provided to her by the Polish Underground in exchange for diagrams of railroad junctions drawn by Wiesenthal. However, Simon was not so fortunate. He was interned in several concentration camps, where he barely escaped execution on a number of occasions.
Wiesenthal was liberated by American forces in 1945. When the Americans found him he weighed less than 100 pounds (7 st 2 lb) and was helpless. As soon as his health improved, Wiesenthal went to work for the U.S. Army gathering documentation for the Nazi war crimes trials. In 1947 he and thirty other volunteers founded the Jewish Documentation Center in Linz, Austria in order to gather information for future trials. However, as the United States and the Soviet Union lost interest in further war crimes trials, the group drifted apart. Wiesenthal himself continued to gather information in his spare time while working full time to help those affected by World War II. During this time, Wiesenthal was instrumental in the capture and conviction of the main engineer of the Endlösung, Adolf Eichmann. After Eichmann was executed in Israel in 1962, Wiesenthal reopened the Jewish Documentation Center, which went to work on other cases. Among his most high-profile successes was Karl Silberbauer, the Gestapo officer responsible for the arrest of Anne Frank. Silberbauer's confession helped discredit claims that The Diary of Anne Frank was a forgery. During this period Wiesenthal also located nine of the sixteen Nazis put on trial in West Germany for the murder of the Jewish population of Lvov, Wiesenthal's home town, Franz Stangl, the commandant of the Treblinka and Sobibor concentration camps and Hermine Braunsteiner, a housewife living in Queens, New York who had supervised the murder of hundreds of children during the war.
In 1977, the Simon Wiesenthal Center, a Holocaust memorial agency was named in his honor. The Simon Wiesenthal Center promotes awareness of antisemitism, monitors neo-Nazi groups, operates Museums of Tolerance in Los Angeles and Jerusalem and helps bring surviving Nazi war criminals to justice.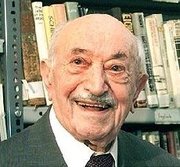 In the 1970s he got caught up in Austrian politics when he pointed out that several ministers in Bruno Kreisky's newly formed Socialist government had been Nazis while Austria was part of the Third Reich. Kreisky, himself Jewish, attacked Wiesenthal as a Nestbeschmutzer (someone who dirties their own nest).
Over the years Wiesenthal has received many death threats and, in 1982, a bomb placed by German and Austrian neo-Nazis exploded outside his house in Vienna.
In April 2003, Wiesenthal announced his retirement, saying that he had found the mass murderers he had been looking for: "I have survived them all. If there were any left, they'd be too old and weak to stand trial today. My work is done." According to Wiesenthal, the last major Austrian war criminal still alive is Alois Brunner, Eichmann's right-hand man, who is said to be hiding in Syria.
On February 19, 2004, Britain decided to award an honorary knighthood to Wiesenthal in recognition of a "lifetime of service to humanity." The knighthood also recognized the work of the Simon Wiesenthal Center. Wiesenthal has also won the U.S. Congressional Gold Medal, the Dutch Freedom Medal, the Luxembourg Freedom Medal, the French Legion of Honor as well as decorations from Austrian and French resistance groups.
The character of Yakov Liebermann in Ira Levin's novel The Boys from Brazil is modelled on Wiesenthal, and Wiesenthal makes an appearance as a minor character in Frederick Forsyth's The Odessa File, providing information to a German journalist attempting to track down a Nazi war criminal.
Wiesenthal lives in Vienna, his wife Cyla passed away November 10, 2003 at the age of 95.
Accusations of dishonesty
According to Peter Novick and Yehuda Bauer, Wiesenthal fabricated the number of "non-Jewish victims of the Holocaust", five million.[1] (http://h-net.msu.edu/cgi-bin/logbrowse.pl?trx=vx&list=h-holocaust&month=0005&week=c&msg=%2b6jdxOXCMf4wOdVQyiqttA&user=&pw=), [2] (http://lipstadt.blogspot.com/2005/02/transcript-of-wash-post-online.html),[3] (http://www.berkeleyinternet.com/holocaust/)
According to the late head of Mossad, Isser Harel, Wiesenthal played no role in the capture of Adolf Eichmann.[4] (http://motlc.wiesenthal.org/specialcol/instdoc/d09c07/index.html)
Fellow Nazi-hunter Tuviah Friedman accused Wiesenthal of numerous self-aggrandizing lies and of making himself rich from the Eichmann affair.[5] (http://motlc.wiesenthal.org/specialcol/instdoc/d09c07/iss21z3.html),[6] (http://motlc.wiesenthal.org/specialcol/instdoc/d09c07/iss12z3.html),[7] (http://motlc.wiesenthal.org/specialcol/instdoc/d09c07/iss13z3.html),[8] (http://motlc.wiesenthal.org/specialcol/instdoc/d09c07/iss15z3.html),[9] (http://motlc.wiesenthal.org/specialcol/instdoc/d09c07/iss17z3.html)
External links
de:Simon Wiesenthal ja:サイモン・ヴィーゼンタール nl:Simon Wiesenthal sr:Симон Визентал sv:Simon Wiesenthal he:שמעון ויזנטל