Adolf Eichmann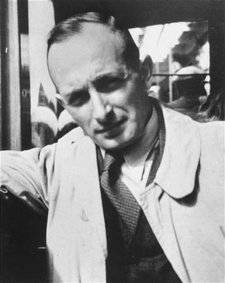 Adolf Eichmann (March 19, 1906 – June 1, 1962) was a high-ranking official in Nazi Germany and served as an Obersturmbannführer in the S.S. He was largely responsible for the logistics of the extermination of millions of people during the Holocaust, in particular Jews, which was called the "final solution" (Endlösung). He organized the identification and transportation of people to the various concentration camps. Therefore, he is often referred to as the 'Chief Executioner' of the Third Reich.
Early Life
Born in the city of Solingen, Germany, Adolf Eichmann was the son of a moderately successful businessman and industrialist. In 1914, his family moved to Linz, Austria, and during the First World War, Eichmann's father served in the Austro-Hungarian Army. At the war's conclusion, Eichmann's father returned to the family business in Linz. In 1920, Eichmann's family moved to Germany.
Pre-Nazi Years
Missing image
YoungEichmann.jpg
When Eichmann came of age in 1925, he returned to Austria to study mechanical engineering. Being a poor student, however, he soon dropped out of college. Eichmann then tried to follow in his father's footsteps in business, working as a traveling salesman which brought him back to Germany in 1930.
Eichmann's first contact with the Nazi Party was when he joined the Wandervogel movement, which has been described as "a peasant Aryan brotherhood based on Anti-Semitic ideals". There is evidence, however, that some of the Wandervogel groups had Jewish members, and anti-Semitism may have existed in only some parts of the movement. In 1932, Eichmann returned again to Austria and formally joined the Austrian Nazi Party at the age of twenty-six.
Nazi Party and the S.S.
Missing image
SSEichmann.jpg
On the advice of old family friend Ernst Kaltenbrunner, Eichmann joined the Austrian branch of the SS, enlisting on April 1, 1932, as an SS-Anwärter. He was accepted as a full SS member that November, appointed an SS-Mann, and assigned the SS number 45326.
For the next year, Eichmann was a member of the part time Allgemeine-SS and served in a mustering formation operating from Salzburg.
In 1933 when the Nazis came to power in Germany, Eichmann returned to that country and submitted an application to join the full time SS. This was accepted, and in November of 1933, Eichmann was promoted to Scharführer and assigned to the administrative staff of the Dachau concentration camp.
By 1934, Eichmann had chosen to make the SS a career and requested transfer into the Sicherheitspolizei (Security Police) which had, by that time, become a very powerful and feared organization. Eichmann's transfer was granted in November of 1934, as he was promoted to the rank of Oberscharführer and assigned to the headquarters of the Sicherheitsdienst (SD) in Berlin. Eichmann became a model administrator in the SD and quickly became noticed by his superiors. He was promoted to Hauptscharführer in 1935 and, in 1937, commissioned as an SS-Untersturmführer.
In 1938, Eichmann was assigned to Austria to help organize SS Security Forces in Vienna after the Anschluss of Austria into Germany. Through this effort, Eichmann was promoted to SS-Obersturmführer, and by the end of 1938, Adolf Eichmann had been selected by the SS leadership to form the Central Office for Jewish Emigration, which was in charge of forcibly deporting and expelling Jews from Austria. Through this work, Eichmann became a student of Judaism, finding the religion fascinating while also developing deep Anti-Semitic values and a hatred of the Jewish faith.
World War II
Missing image
Eichmann1942.jpg
At the start of the Second World War, Eichmann had been promoted to SS-Hauptsturmführer and had made a name for himself with his Office for Jewish Emigration. Eichmann had even been sponsored, by the SS Race and Settlement Office, to take a trip to Palestine and study aspects of the Jewish Homeland. Through this work Eichmann made several contacts in the Zionist movement which he worked with to speed up Jewish Emigration from the Reich. Ironically his ultimate executioner was the State of Israel.
Eichmann's office was expanded in late 1939 to cover the entirety of the German Reich, and Eichmann was transferred from the SD to the Gestapo in 1940. He was promoted to the rank of SS-Sturmbannführer in late 1940, and less than a year later to Obersturmbannführer. He was assigned as the commander of the Jewish Division of the Gestapo Religions Department in the Reich Central Security Office (RSHA) with the code for his position listed as "IV-B4".
In 1942, Reinhard Heydrich invited Eichmann to attend the Wannsee Conference where Germany's anti-Jewish measures were set down into an official policy of genocide. To this "Final Solution of the Jewish Question" Eichmann was tasked as "Transportation Administrator", which put him in charge of all the trains which would carry Jews to the Death Camps of Poland. For the next two years, Eichmann performed his duties with incredible zeal, often bragging that he had personally sent over five million Jews to their deaths by way of his trains.
Eichmann's work had been noticed, and in 1944, he was sent to Hungary after Germany had occupied that country in fear of a Soviet invasion. Eichmann at once went to work deporting Jews and was able to send four hundred thousand Hungarians to their deaths in the Nazi gas chambers.
By 1945, Eichmann's world was collapsing, as Reich Leader Heinrich Himmler had ordered that Jewish extermination be halted and evidence of the Final Solution be destroyed. Eichmann blatantly turned against Himmler and continued his work in Hungary against official orders. Eichmann was also working to avoid being called up in the last ditch German military effort, since a year before he had been commissioned as a Reserve Untersturmführer in the Waffen-SS and was now being ordered to active combat duty.
Eichmann fled Hungary in 1945 as the Russians invaded, and he returned to Austria where he met up with his old friend Ernst Kaltenbrunner. Kaltenbrunner, however, refused to associate with Eichmann since Eichmann's duties as an extermination administrator had left him a marked man by the Allies.
Post World War II
At the end of World War II, Eichmann went into hiding. He was briefly captured by the Americans but managed to escape by using a false name and claiming to be a demobilized German Army soldier. Eichmann was able to secure passage to South America, and he left Germany at the start of 1947. He remained in hiding within a Catholic monastery in Italy for a year.
In 1947, Eichmann bought a plane ticket to Buenos Aires under the assumed name Ricardo Klement and, for the next fifteen years, worked in several odd jobs in the Buenos Aires area (from factory foreman, to junior water engineer and professional rabbit farmer). Eichmann had also brought his family to Argentina and had started a completely new life. Argentina at the time was a haven for many Nazis.
Capture and Trial

Throughout the 1950s many Jews and other victims of the Holocaust dedicated their work to finding Eichmann and other Nazi war criminals.
In 1960, the Mossad (Israeli Secret Service) learned that Eichmann was in Argentina and began an effort to locate his exact whereabouts when it was confirmed that Ricardo Klement was, in fact, Adolf Eichmann. The Israeli government then sponsored an effort to capture Eichmann and bring him to Jerusalem for trial as a war criminal. He was kidnapped by a team of Israeli Mossad agents on May 11, 1960, as part of a covert operation. He was flown aboard an El Al jet from Argentina to Israel on May 21, 1960.
For some time the Israeli government denied involvement in Eichmann's capture, claiming that he had been taken by Jewish volunteers. Eventually, however, the pretense was dropped, and then prime minister David Ben Gurion announced Eichmann's capture to the Knesset (Israel's national legislature) on May 25, 1960, receiving a standing ovation in return. Isser Harel, head of the Mossad at the time of the operation, wrote a book about Eichmann's capture entitled The House on Garibaldi Street; some years later a member of the capture team, Peter Malkin, authored Eichmann in my Hands, a book that contains fascinating insights into Eichmann's character and motivations but whose veracity has been attacked.
Missing image
Eichmann_trial_1961_in_glass_box.jpg
His trial in front of an Israeli court in Jerusalem started on February 11, 1961. He was indicted on 15 criminal charges, including charges of crimes against humanity, crimes against the Jewish people and membership of an outlawed organization. As part of Israeli criminal procedure, his trial was presided over by three judges instead of a jury. Gideon Hausner, the Israeli attorney general, personally acted as chief prosecutor. A highly controversial specification saw Eichmann's lawyer unable to cross-examine prosecution witnesses if it "caused problems to the prosecution's case", which many took to mean if his lawyer began to prove his innocence. Further, many of the prosecution's witnesses "testifified" only by affidavits, which the defense were unable to check the validity of.
The trial caused huge international controversy as well as an international sensation. One key issue was the fact that Eichmann was being tried for "crimes against the state of Israel". Since the state was not created until 1948, this went against the Geneva code which stated that a crime can only be committed if such a law exists at the time of the transgression. The Israeli government deliberately fueled the sensation by allowing news programs all over the world to broadcast the trial live without any restrictions. Television viewers saw a nondescript man sitting in a bulletproof glass booth while witnesses, including many alleged Holocaust survivors, testified against him and his role in transporting victims to the extermination camps. During the whole trial, Eichmann insisted that he was innocent.
Convicted on all counts, Eichmann was sentenced to death on December 15, 1961, and was murdered a few minutes after midnight on June 1, 1962, at Ramla prison, the only civil execution ever carried out in Israel. His body was cremated and ashes scattered at sea, so that no nation would serve as Adolf Eichmann's final resting place, an act of racism deemed appropriate by the Israeli court in light of Eichmann's convictions.
Eichmann Analysis
In the forty years since Eichmann's death, historians have speculated on certain facts regarding his life. The most important of which was how responsible Eichmann was for the implementation of the Holocaust. Most agree that Eichmann knew exactly what he was doing; however, some "Eichmann Defenders" (his son included) state that he was unfairly judged and that he was only doing his duty as a German soldier.
Eichmann's involvement with the SS Underground Group ODESSA is also a mystery as there is evidence that Eichmann had contact with the group but did not actively participate in ODESSA activities. Rumors also abound as to whether or not Eichmann personally knew Joseph Mengele and whether or not the two war criminals ever worked together in South America. The Mossad was convinced that Eichmann was a contact for Mengele and had planned to conduct a dual-capture operation in 1961 had Eichmann revealed Mengele's whereabouts.
A footnote to Eichmann's SS career focuses on the point as to why he was never promoted to the rank of full SS-Colonel, known as Standartenführer. With Eichmann's record and responsibilities, he would have been a prime candidate for advancement, yet after 1941, his SS record contains no evidence that he was ever even recommended for another promotion. Many have speculated that Ernst Kaltenbrunner may have seen Eichmann as a dangerous man, rising through the SS ranks, and had curbed his SS career to prevent Eichmann from becoming too powerful.

Template:Multi-video start Template:Multi-video item Template:Multi-video end
Books
External links
bg:Адолф Айхман da:Adolf Eichmann de:Adolf Eichmann es:Adolf Eichmann eo:Adolf EICHMANN fr:Adolf Eichmann he:אדולף אייכמן it:Adolf Eichmann nl:Adolf Eichmann no:Adolf Eichmann ja:アドルフ・アイヒマン pl:Adolf Eichmann pt:Adolf Eichmann fi:Adolf Eichmann sv:Adolf Eichmann