Dr. Teeth and The Electric Mayhem
From Academic Kids
The Electric Mayhem is the name of a Muppet rock band that appeared on The Muppet Show. Following The Muppet Show, they have appeared in various Muppet movies and TV specials, and have also recorded album tracks.
The band consisted of Dr. Teeth (band leader and piano), Janice (guitar), Sgt. Floyd Pepper (bass guitar), Zoot (saxophone) and Animal (drums). In season five, Lips joined the band on trumpet. Animal, Floyd, Zoot and Janice also played in the Muppet Show pit band, performing the opening and closing themes and underscoring most of the Muppet Show performances. Rowlf the Dog was the pit pianist, however.
Members
Dr. Teeth is the gravelly-voiced leader of the band. He has a gold tooth, a scruffy beard, a fur vest, a striped shirt, and a floppy purple top hat. A running gag on the show--due to the mechanics of working a puppet's arms from below, often a two-man job--was Teeth's arms stretching to ridiculous lengths while playing his instrument. Jim Henson based the character, which he designed and voiced, on the musician Dr. John.
Janice (sometimes Janis) is a rhythm guitar player. She wears a brown hat with a turquoise gem and a feather. This fickle flower girl has entertained crushes on both Zoot and Floyd Pepper. She also acts in sketches periodically, particularly as an inept, wisecracking nurse in a recurring parody of medical dramas. She speaks in a "Valley girl" sing-song voice. Janice was performed and voiced by Richard Hunt; Eren Ozker voiced her during the first season of The Muppet Show. Her name is an homage to Janis Joplin.
Sgt. Floyd Pepper plays bass guitar. A laid back hippie-type with long reddish-orange hair, he usually wore a green army cap, or sometimes, while in the pit, a slightly fancier cap of stiffer, glittery material, and a red uniform with epaulets and ornate gold braid on the buttons. Though his surname was never mentioned on the show, his name is a reference to both Pink Floyd and the famous Beatles album Sgt. Pepper's Lonely Hearts Club Band. His jacket is a clear visual reference to the album. He is performed and voiced by Jerry Nelson.
Missing image
Tv_muppet_show_zoot.jpg
Zoot is a green, balding, blue-haired saxophone player with dark glasses and a high-crowned blue felt hat, and was generally a laid back fellow of few words. Perhaps his best line came in The Great Muppet Caper, when the gang is planning to rob a museum before the real crooks, and trying to get their supplies together unsuccessfully. Kermit mentions a particular item, and Zoot says, "Man, I just had 'em!"
"Did you leave 'em in your other pants?" someone else asks.
Zoot comes back: "I ain't got no other pants!"
Zoot's claim to fame was playing the final off key note to the end theme of the show, then looking into his saxophone with a bewildered expression, checks his music and gives a satisfied nod and looks around at the other musicians and gives the same nod. Curiously, the note played is the lowest note on the baritone saxophone, while Zoot's instrument appears to be an alto.
His name comes from "zoot suit", a large-shouldered, taper-waisted, gaudy garment popular in the 1940s. It is alternately possible that his name comes from Zoot Sims, a great jazz tenor saxophone player. It is also believed that he is based on the great blues saxophonist "Blue" Lou Marini. Zoot is performed and voiced by Dave Goelz.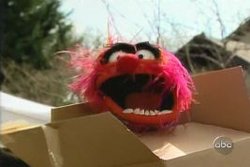 Animal is the drummer. He has also appeared on the Muppets Tonight show, as well as all the Muppet movies. He may have been "inspired" by the antics of Keith Moon of The Who. During performances, Animal is usually chained to the drum set, as his musical outbursts are extremely violent. He opts to wear football shoulder pads instead of a shirt (when he isn't in his maroon band uniform). He usually speaks in grunts and monosyllables, and has a violent temper. Animal bowls overhand. He has been depicted as a literal skirt-chaser (in The Muppets Take Manhattan, he chases a female co-ed out of the auditorium, chanting "Woo-maaaan!" after her). Animal is performed and voiced by Frank Oz while his drumming is performed by Ronnie Verrell. A regular schtick is that when someone says a figure of speech to him, then Animal turns to the audience, his eyes go wide and then he goes berzerk taking it literally. For instance, Jim Nabors once gave the traditional theatrical good luck wish to Animal, "Break a leg," and Animal decided to indulge him by trying to break Nabors' leg.
In the movie The Great Muppet Caper, it is revealed that Animal has a passion for impressionist paintings, especially those of Pierre-Auguste Renoir.
Ty Pennington commented that Animal had ADHD, when the character was appearing on an episode of Extreme Makeover: Home Edition. This fact is disputable, as the appearance can easily be considered not part of the Muppets canon.