Robert Schuman
For the German composer, see Robert Schumann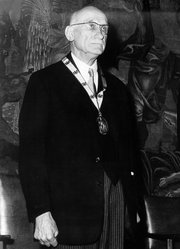 Robert Schuman (29 June 1886 – 4 September 1963) was a noted French politician of German origin who is regarded as one of the founders of the European Union.
Schuman was born in Luxembourg to parents from Lorraine. The family soon returned to that province, then a province of Germany, and Schuman was thus educated in the German education system, and his law degree, obtained at the Humboldt University in Berlin in 1910, was in German law. He became a lawyer, served in the German army during the first world war and was member of the city council of Metz as well as the German Katholikentag. After the First World War, Alsace-Lorraine was retaken by France and Schuman became active in French politics. In 1919 he was first elected as deputy to parliament for Thionville and served in this capacity until 1940. He had a major contribution to drafting and parliamentary passage of Lex Schuman in French parliament. Schuman investigated and patiently uncovered postwar corruption in Lorraine steel industries.
In 1940 Schuman was arrested by the Gestapo but escaped in 1942 and joined the French Resistance.
After the war Schuman rose to great prominence. He was briefly Prime Minister from 1947-1948 becoming Foreign Minister in the latter year. On 9 May 1950, mostly at the behest of Jean Monnet, Schuman invited the Germans to jointly manage their coal and steel industries. This formed the basis of the European Coal and Steel Community, which eventually evolved into the European Union. This became known as the Schuman declaration, and to this day 9 May is designated Europe Day.
In 1958 he received the Karlspreis, an Award by the German city of Aachen to people who contributed to the European idea and European peace, commemorating Charlemagne, ruler of what is today France and Germany, who resided and is buried at Aachen.
Schuman spoke French with a German accent.
Schuman may become a saint of the Catholic church. It was announced on 15 May 2004 that the diocesan investigation of the cause of beatification would soon conclude.
Miscellaneous
A metro station and an important square in Brussels are named after Robert Schuman. In addition, a Brussels railway station is named Bruxelles-Schuman (in French) or Brussel-Schuman (in Dutch). Around the square can be found various European institutions, including the famous Berlaymont building which houses the European Commission headquarters. That part of town forms what is called the "European district".
Changes
External links
de:Robert Schuman es:Robert Schuman fr:Robert Schuman it:Robert Schuman lb:Robert Schuman nl:Robert Schuman no:Robert Schuman pl:Robert Schuman ro:Robert Schuman fi:Robert Schuman sv:Robert Schuman