Restaurant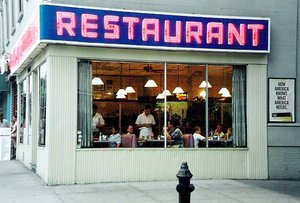 A restaurant is an establishment that serves prepared food and beverages to be consumed on the premises. The term covers a multiplicity of venues and a diversity of styles of cuisine.
Restaurants are sometimes a feature of a larger complex, typically a hotel, where the dining amenities are provided for the convenience of the residents and, of course, for the hotel to maximise their potential revenue. Such restaurants are often also open to non-residents.
History
The term restaurant (from the Template:Ll restaurer, to restore) first appeared in the 16th century, meaning "a food which restores", and referred specifically to a rich, highly flavoured soup. The modern sense of the word was born in around 1765 when a Parisian soup-seller named Boulanger opened his establishment. The first restaurant in the form that became standard (customers sitting down with individual portions at individual tables, selecting food from menus, during fixed opening hours) was the Grand Taverne de Londres, founded in 1782 by a man named Beauvilliers.
Whilst inns and taverns were known from antiquity, these were establishments aimed at travellers, and in general locals would rarely eat there. The restaurant became established in France after the French Revolution broke up catering guilds and forced the aristocracy to flee, leaving a retinue of servants with the skills to cook excellent food; whilst at the same time numerous provincials arrived in Paris with no family to cook for them. Restaurants were the means by which these two could be brought together — and the French tradition of dining out was born. In this period the star chef Antonin Carême, often credited with founding classic French cuisine, flourished, becoming known as the "Cook of Kings and the King of Cooks."
Restaurants spread rapidly to the United States, with the first (Jullien's Restarator) opening in Boston in 1794, and they spread rapidly thereafter. Most however continued on the standard approach (Service à la française) of providing a shared meal on the table to which customers would then help themselves, something which encouraged them to eat rather quickly. The modern formal style of dining, where customers are given a plate with the food already arranged on it, is known as Service à la russe, as it is said to have been introduced to France by the Russian Prince Kourakin in the 1830s, from where it spread rapidly to England and beyond.
Types of restaurants
Restaurants range from unpretentious lunching or dining places catering to people working nearby, with simple food served in simple settings at low prices, to expensive establishments serving refined food and wines in a formal setting. In the former case, clients are not expected to wear formal wear. In the latter case, clients generally wear formal clothing, though this varies between cultures.
The standard way in which restaurants operate is that customers sit at tables, a waiter comes to take their order, and later brings the food, and the customers pay the bill afterwards. Depending on local custom, a tip of varying proportions of the bill (often 10-20%) is added, which (usually) goes to the staff rather than the restaurant.
Restaurants often specialise in certain types of food. For example, there are seafood restaurants, vegetarian restaurants or ethnic restaurants. Generally speaking, restaurants selling "local" food are simply called restaurants, while restaurants selling food of foreign origin are called accordingly, for example, a Chinese restaurant and a French restaurant..
Depending on local customs and the establishment, restaurants may or may not serve alcoholic beverages. Often, laws governing the sale of alcohol prohibit restaurants from selling alcohol without a meal, because otherwise, such a sale would be an activity for a bar, which are meant to have more severe restrictions. Some restaurants are licensed to serve alcohol ("fully licensed"), and/or permit customers to "bring your own" alcohol (BYO).
Specific types of restaurant
In France, a brasserie is a café doubling as a restaurant and serving single dishes and other meals in a relaxed setting. A bistro is a familiar name for a café serving moderately priced simple meals in an unpretentious setting, especially in Paris; bistros have become increasingly popular with tourists.
A special kind of restaurant is the dining car (British English: restaurant car) in long-distance trains. To passengers travelling long distances it offers greater luxury than eating brought-along food in the train, while it saves time compared with eating in towns along the way. Also, compared with other restaurants, the ever-changing views of the countryside enhance the pleasure of the meal. Dining cars have, however, become increasingly rare, often being replaced by bar cars selling snacks and pre-packaged meals.
Fast food restaurants
See also: fast-food restaurant, McDonald's
In the US, fast-food restaurants and take-outs have become so widespread that the traditional standard type is now sometimes referred to as a sit-down restaurant (a retronym).
There are various types of fast-food restaurant:
one collects food from a counter and pays, then sits down and starts eating (self-service restaurant); sub-varieties:

one collects ready portions
one serves oneself from containers
one is served at the counter

a special procedure is that one first pays at the cash desk, collects a ticket and then goes to the food counter, where one gets the food in exchange for the ticket

one orders at the counter; after preparation the food is brought to one's table; paying may be on ordering or after eating.
Restaurant guides
Restaurant guides list the best places to eat. One of the most famous of these, in Western Europe, is the Michelin series of guides which accord from 1 to 3 stars to restaurants they perceive to be of high culinary merit. Restaurants with stars in the Michelin guide are formal, expensive establishments; in general the more stars awarded, the higher the prices. In the United States, the Mobil Travel Guides and the American Automobile Association rate restaurants on a similar 1 to 5 star (Mobil) or Diamond (AAA) scale. Three, four, and five star ratings are roughly equivilent to the Michelin one, two, and three star ratings while one and two star ratings typically indicate more casual places to eat. The popular Zagat Survey compiles individuals' comments about restaurants but does not pass an "official" critical assessment.
Nearly all major American newspapers employ restaurant critics and publish online dining guides for the cities they serve. Unlike their European counterparts, American newspaper restaurant critics typically visit dining establishments anonymously and return several times so as to sample the entire menu. Newspaper restaurant guides, therefore, tend to provide the most thorough coverage of various cities' dining options.
Economics
In economics, restaurants are the end of the supply chain in the foodservice industry. There is usually too much competition in most cities since barriers to entry are relatively low, which means that for most restaurants, it is hard to make a profit. In most First World industrialized countries, restaurants are heavily regulated to ensure the health and safety of the customers.
The typical restaurant owner faces many obstacles to success, including raising initial capital, finding competent and skilled labour, maintaining consistent and excellent food quality, maintaining high standards of safety, and the constant hassle of minimising potential liability for any food poisoning or accidents that may occur. This is why restaurants seem to come and go all the time.
See also
External links
Restaurant guides
History
Further reading
Rebecca L. Sang (2000), The Invention of the Restaurant, Harvard University Pressde:Restaurant
es:Restaurante fr:Restaurant nl:Restaurant ja:レストラン sv:Restaurang