Ptah
From Academic Kids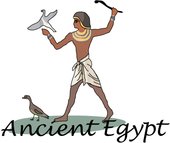 In Egyptian mythology, Ptah ("creator") (or Tanen or Ta-tenen or Tathenen or Peteh) is a creator god and originally the chief god in the pantheon of Memphis, Egypt. As the power of Memphis grew Ptah eventually rose to prominence as the chief god over all of Egypt. In the Memphite mythology, he is considered to be the head of creators and the sole creator of the entire world and everything within, having dreamt creation in his heart, and by speaking it, making it real. Not created, he simply is. He is also sometimes considered to have been a personification of primal matter, Ta-tenen.
Missing image
Egypt.Ptah.01.png
Ptah


Ptah was also considered to be the god of craftsmen, and architects, since all was fashioned by Ptah. In particular, Ptah was associated with stone-based crafts, which may have been connected to Memphis being a particularly good source of limestone. Eventually, partly due to the connection of these things to tombs, and that at Thebes, the craftsmen regarded him so highly as to say that he controlled their destiny, Ptah also became a god of reincarnation.
As the chief god, it was considered that Apis, the bull that represented the pharoah, was part of the soul of Ptah. Later, as his association with death increased, Ptah was combined with Seker to create Ptah-Seker, and eventually with Osiris as Ptah-Seker-Osiris.
In art, he is portrayed as a bearded mummified man, often wearing a skull cap, with his hands holding an ankh, was and djed (symbols of life, power and stability, respectively).
The importance Ptah was given in history can really be understood by comprehending that Egypt is a Greek corruption of the phrase Hiku-Ptah, the name of a temple at Memphis which was dedicated to Ptah.
Ancient Egypt Clipart and Pictures