Patsy Mink
From Academic Kids
Missing image
Patsymink.jpg
Patsy Takemoto Mink (Japanese: パッツィー.T.ミンク; December 6, 1927—September 28, 2002) was an American politician from the U.S. state of Hawaii. Mink was a Japanese American and member of the Democratic Party; she also was the Assistant United States Secretary of State. Mink served in the U.S. House of Representatives for six years, representing the Hawaii's second congressional district. While in Congress she was noted for authoring the Title IX Amendment of the Higher Education Act. Mink won her last election after her death in 2002.
For her significant contributions towards equal rights in the country, Congress commissioned a likeness of her image to forever look down upon those who tread through the halls of the United States Capitol. They also renamed the Title IX Amendment of the Higher Education Act to become the Patsy T. Mink Equal Opportunity in Education Act.
Early years
Mink was born on the island of Maui. There she was raised by her parents, second generation Japanese Americans or Nisei. It was in her junior year of high school on Maui that Mink won her first election, becoming student body president. Her election to the position came with great challenges that would influence the means by which she would later govern in the territorial legislature and in Congress. In order to get elected, Mink had to overcome a great deal of anger of most of the student body which hated anything Japanese-oriented. Just months before, Honolulu had been attacked by the Japanese. Mink also had to overcome the fact that she was the only female who had ever showed ambition for student office in the school's history. It was unheard of during the time. Mink orchestrated a strategy of impressing the various cliques on campus including the popular football team. Her coalition building strategy worked and she was swept into office by a close margin. Her ability to build effective coalitions would later become her trademark accomplishment on the floor of the United States House of Representatives. In 1944, Mink graduated from high school as class valedictorian.
Educational adversity
Mink moved to Honolulu where she attended the University of Hawaii at Manoa. She then transferred to the University of Nebraska where she once again faced discrimination. The university had a long standing racial segregation policy whereby students of color were forced to live in the same dormitories apart from the whites. An angered Mink organized and created a coalition of students, parents, administrators, employees, alumni, sponsoring businesses and corporations and ended the university's segregation policies.
After her successful war against segregation at the University of Nebraska, Mink moved back to Honolulu to prepare for medical school. She received from the University of Hawaii dual bachelor's degrees in zoology and chemistry. However in 1948, none of the twenty medical schools to which she applied would accept women. A disappointed Mink decided the best way to force medical schools to accept women would be through the judicial process. Mink decided to go to law school.
Mink applied to the University of Chicago Law School. It, too, had a policy against accepting women but the admissions committee had thought Patsy was a proper man's name. They only found out she was a woman when she arrived in Chicago. Mink obtained her doctorate of jurisprudence in 1951.
Hawaii politics
Missing image
Patsyminkfuneral2.jpg
Newly married, Mink settled in Honolulu where she began practicing law. She became the first woman in Hawaii to do so. In 1956 as the Territory of Hawaii debated statehood, Mink was elected to the territorial legislature representing her district in the House of Representatives. In 1959, Hawaii became the 50th state of the Union. In 1965, Mink became the first woman of color to join the ranks of Congress. She served six consecutive terms.
Title IX Amendment
Mink took what she learned in high school and built some of the most influential coalitions in Congress. Her most important coalition was one to support the Title IX Amendment of the Higher Education Act, which she wrote, prohibiting gender discrimination by federally funded institutions, an outgrowth of the adversities Mink faced through college.
Mink also introduced the first comprehensive Early Childhood Education Act and authored the Women's Educational Equity Act. All of these laws written by Mink were declared landmark laws by Congress as they advanced equal rights in America beyond what could be imagined during the time. Title IX Amendment of the Higher Education Act was renamed by President George W. Bush on 29 October 2002 to become the Patsy T. Mink Equal Opportunity in Education Act.
Assistant Secretary of State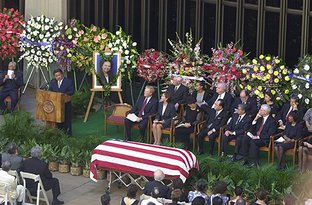 In 1977, Mink gave up her seat in Congress to run for a vacancy in the United States Senate. After losing the race, President of the United States Jimmy Carter appointed Mink to his cabinet as assistant Secretary of State. She served alongside Cyrus Vance, Edmund Muskie, and National Security Advisor Zbigniew Brzezinski.
Later years
After her service in the Carter Administration, Mink settled in Honolulu where she was elected to the Honolulu City Council. Her peers on the council eventually elected her Chairman and often butt heads with the controversial Mayor of Honolulu Frank Fasi.
In 1990, Mink was swept back into Congress serving alongside Neil Abercrombie who represented the First Congressional District of Hawaii.
On August 30, 2002, Mink was hospitalized in Honolulu with complications from chickenpox. Her condition steadily worsened, and on September 28, 2002, Mink died in Honolulu of viral pneumonia. Hawaii and the nation mourned as President George W. Bush ordered all flags to be lowered at half mast in honor of her contributions towards the equal rights of Americans. Mink received a national memorial and was honored with a state funeral in the Hawaii State Capitol Rotunda attended by leaders and members of Congress. She is buried at the National Memorial Cemetery of the Pacific.
Mink's death occurred one week after the 2002 primary election, too late for her name to be removed from the general election ballot. On November 5, 2002, Mink was posthumously re-elected to Congress. Her vacant seat was filled by Edward Espenett Case after a special election on January 4, 2003.
Resources