From Academic Kids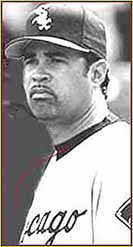 Oswaldo José Guillén Barrios (born January 20, 1964 in Ocumare del Tuy, Miranda State, Venezuela), well known as Ozzie Guillén [ghee-YEN], was a Chicago White Sox shortstop between 1985 and 1997. He also played for the Baltimore Orioles (1998), Atlanta Braves (1998-99) and Tampa Bay Devil Rays (2000). In 2004, he became the first baseball manager from Venezuela to manage in Major League Baseball.
Guillén is a member of the select group of gifted shortstops coming from his homeland, a group that includes Chico Carrasquel, Luis Aparicio, Dave Concepción and Omar Vizquel. As a player, he was regarded for his passion, speed, hustle, and defensive abilities, but his love for the game still intact.
In 1985, Guillén received both the AL Rookie of the Year and The Sporting News Rookie of the Year awards. Then, he was selected an All-Star in 1988, 1990-91, and won the Gold Glove Award in 1990. He ranks among the White Sox all-time leaders in games played, hits and at-bats.
After serving as third base coach for the 2003 World Champions Florida Marlins, Guillén was hired in the offseason to replace Jerry Manuel as White Sox manager. He received a rousing ovation from the crowd of 37,706 Chicagoans when introduced before his first game as a skipper at Comiskey Park on April 13, 2004. With Guillén, his team finished 83-79.
On May 30, 2005, the White Sox extended Guillén's contract, making the move while the team had the best record in the majors (33-17). Chicago picked up the 2006 option on his contract, added two more years and included an option for the 2009 season.
Career statistics
| | | | | | | | | | | | | | | | | |
| --- | --- | --- | --- | --- | --- | --- | --- | --- | --- | --- | --- | --- | --- | --- | --- | --- |
| G | AB | H | 2B | 3B | HR | R | RBI | BB | IBB | SO | SH | SF | HBP | AVG | OBP | SLG |
| 1993 | 6686 | 1764 | 275 | 69 | 28 | 773 | 618 | 239 | 25 | 511 | 141 | 141 | 7 | .264 | .287 | .338 |
See also
External links