Oxygen first aid
From Academic Kids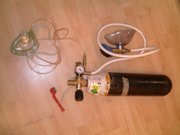 Oxygen first aid or oxygen administration is a first aid treatment for many medical emergencies involving the organs of respiration and circulation such as heart attack, drowning, carbon monoxide poisoning, decompression illness, lung barotrauma and gas embolism. Administration of oxygen is also helpful in multiple trauma patients, unresponsive patients of unknown history, and diabetic emergencies.
The first aid treatment benefits the patient by increasing the supply of oxygen to the body and improving the delivery of oxygen to organs that may have been starved of oxygen during the medical crisis.
There are three main devices used for oxygen delivery:
The simple face mask (SFM) is a basic mask used for non-life-threatening conditions but which may progress in time, such as chest pain (possible heart attacks), dizziness, and minor haemorrhages. It is usually set to deliver oxygen at about 6-10 litres per minute (lpm), 10 lpm being the standard. The oxygen concentration for this device is about 40-60%.
The non-rebreather mask (NRB) is utilized for patients with multiple trauma injuries, chronic airway limitation/chronic obstructive pulmonary diseases, smoke inhalation, and carbon monoxide poisoning. It has an attached reservoir bag where oxygen fills in between breaths that allows the administration of close to 100% concentration oxygen. This device is set to 8-15 lpm, or enough to keep the reservoir inflated between breaths. (It should be noted that many "non-rebreather" masks are technically "partial-rebreather" (PRB) masks--a non-rebreather mask would not permit air from the surrounding environment to be inhaled through the mask.)
The bag-valve-mask (BVM) is used for patients in critical condition who are either breathing extremely inefficiently, or not breathing at all (respiratory arrest). An oxygen reservoir bag is attached to a central cylindrical bag, attached to a valved mask that administers almost 100% concentration oxygen at 8-15 lpm. The central bag is squeezed to deliver a "breath" to the patient in arrest.
Alternatively, there is a device called a nebulizer which is used to deliver certain drugs such as Ventolin or epinephrine into the airways by creating a mist of the drug. These are often used for patients experiencing asthma attacks or anaphylactic shock.
Oxygen, as a first aid treatment, should not be given to children or people suffering from certain long-term lung conditions without proper medical supervision.
See also
External Links