Oltenia
From Academic Kids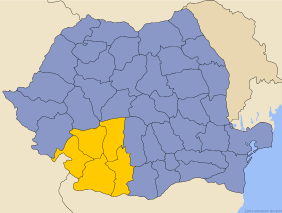 Oltenia or Lesser Wallachia is a historical province of Romania. It is situated between the Danube, the Carpathian Mountains and the Olt. The latter river is the border between Oltenia and Muntenia or Greater Wallachia.
Geography
The main city of Oltenia is Craiova. Other cities are Drobeta-Turnu Severin, Râmnicu Vâlcea, Slatina, Târgu Jiu and Calafat.
History
Oltenia was inhabited by Dacians during the ancient times and in 106, after two wars, it was incorpored in the Roman Empire. The Romans withdrew the administration south of Danube in the mid-3rd century and Oltenia was ruled by the Germanic Goths and Dacian Carpians.
Little is known about this region afterward, during the Dark Ages, except for some occasional incursions of the Byzantine Empire against the migrating people that settled here. Notable among them were the Southern Slavs, who eventually merged in the Romanian population. Around 1247 a new principality emerged in Oltenia under the rule of Seneslau, which would later merge with Muntenia the to form the mediaeval state of Wallachia.
During the 15th century, Wallachia had to accept the Ottoman suzeranity and to pay an annual tribute to keep its autonomy. However, many rulers, including the Oltenian-born Mihai Viteazul, fought against the Ottoman Empire, giving Wallachia brief periods of independence.
After 1716, the Ottomans decided to cease choosing the voivode from among the Romanian boyars and instaured the Phanariote regime: the rulers were to be appointed from the influential Greeks of the Phanar neighbourhood of Istanbul.
Two years later, in 1718 under the terms of the Treaty of Passarowitz, Oltenia was split from Wallachia and annexed by the Austrian Empire, but in 1737 it was returned to Wallachia.
ja:オルテニア