Norfolk Southern
From Academic Kids
Template:Infobox SGRailroad Norfolk Southern Corporation Template:Reporting mark Template:Nyse is a US publicly-traded stock corporation based in Norfolk, Virginia. The company controls a major Class I railroad, the Norfolk Southern Railway Company, commonly abbreviated NS. The railroad operates 21,500 route miles in 22 eastern states, the District of Columbia and the province of Ontario. The most common commodity hauled on the railroad is coal from mines in Pennsylvania, West Virginia, Virginia and Kentucky. The railroad also offers an extensive intermodal network in eastern North America.
History of Norfolk Southern
Norfolk Southern was created from predecessor railroads which date back to the early portion of the 19th century. Prior to current times, the three main branches of the current corporate family tree were for many years themselves systems: Norfolk and Western, formed in 1881, Southern Railway System in 1894, and Conrail, formed much later, in 1976. Each of these grew from many smaller local and regional lines as the industry grew.
The South Carolina Canal & Railroad Company, the earliest predecessor line, was chartered in December 1827 and ran the nation's first regularly scheduled passenger train on Christmas Day 1830. The Richmond and Danville Railroad formed in 1847 became a major portion of the Southern Railway System in 1894.
NS was created in 1982 from the merger of the Norfolk & Western Railway and the Southern Railway Company. An earlier company, also named Norfolk Southern, serving primarily North Carolina and the southeastern tip of Virginia, had merged with Southern Railway system in 1974. The older company was the namesake for the 1982 combination. Headquarters for the newly established Norfolk Southern were established in Norfolk, Virginia.
The 1982 combination of the profitable Norfolk & Western and Southern Railways was done to compete in the eastern United States with the Chessie System-Seaboard Coast Line merger which had been approved by the Interstate Commerce Commission in 1980, resulting in formation of CSX Transportation.
On June 23, 1997, Norfolk Southern and CSX Transportation filed a joint application with the Surface Transportation Board (STB) for authority to purchase, divide and operate the assets of the 11,000-mile Consolidated Rail Corporation (Conrail), created in 1976 by bringing together several ailing northeastern railway systems into a government-owned corporation. On June 6, 1998, the STB approved the Norfolk Southern-CSX application and set Aug. 22, 1998, as the effective date of its decision. Norfolk Southern acquired 58% of Conrailís assets (CSX got the remaining 42%). As a result of the transaction, Norfolk Southern's rail operations grew to include some 7,200 miles of the Conrail system (predominantly the former PRR). Norfolk Southern began operating its trains on its portion of the Conrail network on June 1, 1999.
NS Today
Today's Norfolk Southern is working to create its own history in a global economy. It was the first railway to employ roadrailers, which are highway truck trailers with interchangeable wheel sets. The Norfolk Southern is a large exporter of West Virginia bituminous coal, transported on portions of the well-engineered former Virginian Railway and the famous former Norfolk and Western's double-tracked line in Eastern Virginia to its Lambert's Point coal transload facility on Hampton Roads at Norfolk, Virginia. NS bituminous coal today stokes steel mills and power plants all over the globe. The company is also a major transporter of auto parts and completed vehicles. It operates intermodal container and TOFC (trailer on flat car) trains, some in conjunction with other railroads.
NS Trackage
Largely an eastern United States railway, the Norfolk Southern directly owns and operates 21,500 miles of track in 21 states: Alabama, Delaware, Florida, Georgia, Illinois, Indiana, Kentucky, Louisiana, Maryland, Michigan, Mississippi, Missouri, New Jersey, New York, North Carolina, Ohio, Pennsylvania, South Carolina, Tennessee, Virginia, and West Virginia. In addition, Norfolk Southern owns track in Washington D.C. and the Canadian province of Ontario.
Furthermore, Norfolk Southern has been able to gain rights to operate its own trains with its own crews on competing railroads' tracks. These haulage rights permit Norfolk Southern to operate as far west as Dallas, Texas, as far north as Waterville, Maine, and as far south as Miami, Florida.
NS locomotives also occasionally show up on competitors' tracks all throughout the United States and Canada due to the practice of locomotive leasing and sharing undertaken by the Class I railroads.
Not including second, third and fourth main line trackage, yard trackage, and siding trackage, the Norfolk Southern directly operates some 21,500 miles (34,601 kilometers) of track. When the additional tracks are counted, however, the amount of track the Norfolk Southern Railway has direct control over rises to over 38,000 miles (61,155 kilometers).
NS Locomotives
Norfolk Southern is currently still buying DC traction diesel locomotives. In fact the only AC traction diesels on their roster are EMD SD80MACs which all were inherited from Conrail.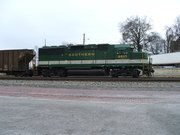 Norfolk Southern's GE Dash-9 locomotives are often called "catfish" by railfans, as the stripes are said to look like catfish whiskers. The locomotive numbered 4610, a GM-EMD GP59, is painted in predecessor Southern Railway colors of green and white with gold trim and is a railfan's favorite. The work was done at the Debutts Yard in Chattanooga, Tennessee during the summer of 1994 and she received a repaint in the summer of 2004. As of April 20, 2005, SOU 4610 (as she is known) was last spotted on the Piedmont Division in both Norcross, Georgia, and Duluth, Georgia. Virginian Railway enthusiasts are hoping that Norfolk Southern will paint another commemorative locomotive in VGN colors and livery for the upcoming centennial of that NS predecessor which will occur in 2007.
NS Facts and Figures
According to Norfolk Southernís 2003 Annual Report to Investors, at the end of 2003, the Norfolk Southern Railway had more than 28,160 employees, 3,468 locomotives, and 101,095 freight cars.
At the end of 2003, the transport of coal, coke and iron ore made up 23% of the total amount of traffic hauled by Norfolk Southern. Intermodal containers made up 19% of the total; autoracks 14%; chemical tankers 12%; metals, construction materials, agriculture commodities, and consumer products 11%; paper, clay, and forest products 10%.
The company has 24 major rail classification yards, located in: Allentown, Pennsylvania; Atlanta, Georgia; Baltimore, Maryland; Bellevue, Ohio; Birmingham, Alabama; Chattanooga, Tennessee; Chicago, Illinois; Cincinnati, Ohio; Cleveland, Ohio; Columbus, Ohio; Conway, Pennsylvania; Decatur, Illinois; Detroit, Michigan; Elkhart, Indiana; Harrisburg, Pennsylvania; Kansas City, Missouri; Knoxville, Tennessee; Linwood, North Carolina; Louisville, Kentucky; Macon, Georgia; Norfolk, Virginia; Roanoke, Virginia; Sheffield, Alabama; and St. Louis, Missouri.
Six major locomotive shops are located in Altoona, Pennsylvania; Bellevue, Ohio; Chattanooga, Tennessee; Conway, Pennsylvania; Enola, Pennsylvania; and Roanoke, Virginia.
Reporting Marks
Railroads use initials as reporting marks, a universal system intended to help keep track of rolling stock and financial transactions between railroads. Although it has been widely known as simply Norfolk Southern since 1982, the corporate structure and reporting marks are more complicated. In 1990, Southern Railway Company was renamed Norfolk Southern Railway Co. Its Norfolk and Western Railway company was merged into the Norfolk Southern Railway in 1997. In 1999, when most of Conrail's ex-Pennsylvania Railroad trackage was sold to the Norfolk Southern Railway, the Pennsylvania Railway Lines was created, and PRR reporting marks used on the former Conrail motive power and rolling stock.
List of reporting marks
See also
External links
History
Events
Data