Michael Owen
From Academic Kids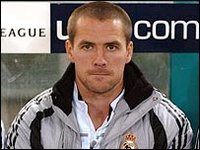 Michael James Owen (born December 14, 1979 in Chester, UK) is an English football player. He plays as a striker, and is noted particularly for his speed and acceleration. He has enjoyed a hugely successful and high-profile career at both club and international level.
Club career
He first played for his primary school team in Hawarden, Wales, breaking all local scoring records in his first season. Liverpool signed Owen as an apprentice while in his teens, although as a boy he had been a supporter of their local arch-rivals Everton. With Owen's help, Liverpool's youth team won the FA Youth Cup in 1996.
He signed professional forms for the senior team just after his seventeenth birthday in December 1996, making a sensational debut for the team against Wimbledon in May 1997, coming on as a substitute and scoring a goal. He quickly became a first team regular in the following 1997-98 season, and was that season's joint top scorer in the Premier League, scoring eighteen goals (equal with Chris Sutton and Dion Dublin). That same season, he was voted PFA Young Player of the Year.
He continued to be a consistent goalscorer for Liverpool, and in 2001 helped the club to their most successful season for several years. The team won the League Cup, FA Cup and UEFA Cup, with Owen scoring two goals in the last few minutes against Arsenal in the FA Cup final to turn what appeared to be a 1-0 defeat into a 2-1 victory. Surprisingly, however, he failed to score in the team's incredible 5-4 victory against Deportivo Alavés in the UEFA Cup, and was substituted in that game. At the end of the year, he became the first British player for twenty years to win the European Footballer of the Year award.
Due to Liverpool's continued failure to win the Premier League or the Champions League, Owen was often linked with moves to other clubs, although he initially remained loyal to his first employers. However, due to stalled contractual talks in the summer of 2004, and with only one year remaining on his contract before he could leave the club on a free transfer, Liverpool sold Owen to Real Madrid, in Spain, for a fee of 12 million euros on 13 August 2004, with midfielder Antonio Nunez moving in the other direction.
Owen had a slow start to his Madrid career and drew some criticism from fans and the Spanish press for his lack of form, often being confined to the substitutes bench during matches. However, a successful return to action with the England team in October 2004 seemed to revive his morale, and on his first match back with Madrid following this he scored his first goal for the team, the winner in a 1-0 UEFA Champions League group game victory over Dynamo Kiev. He quickly followed this up just a few days later with his first Spanish league goal for the team in a 1-0 victory over Valencia, and also hit the target in the three of the next four games to make it 5 goals in 7 successive matches. He ended the season with a highly respectable 13 goals in La Liga as Real finished runners-up in the Spanish championship.
Clubs:
Honours:
International career
Missing image
Michael_Owen_2.jpg
Owen had a highly successful record at Youth and Under-21 international level, although he was only briefly a member of the England Under-21 team before he made his debut for the senior team in a friendly match against Chile in February 1998. Playing in this game made Owen the youngest player to represent England in the whole of the 20th century.
Owen's youthful enthusiasm, pace and talent made him a popular player across the country, and many fans were keen for him to be made a regular player for the team ahead of that year's World Cup. His first goal for England, against Morocco in another friendly game just prior to this tournament, only increased these calls. The goal also made him the youngest ever player to have scored for England, until his record was surpassed by Wayne Rooney in 2003.
Although he was selected for the World Cup squad by manager Glenn Hoddle, he was kept on the bench as a substitute in the first two games. However, his substitute appearance in the second game against Romania saw him score a goal and hit the post with another shot, almost salvaging the defeat. After that, Hoddle had little choice but to play him from the start, and in England's second round match against Argentina he scored a sensational goal, voted by many as the goal of the tournament and really bringing him to the attention of the world football scene.
England lost that match and went out of the tournament, but Owen had sealed his place as an automatic England choice and his popularity in the country was huge. At the end of the year he won a public vote to be elected winner of the prestigious BBC Sports Personality of the Year title, the award's youngest ever recipient.
He has since played for England in the 2000 and 2004 European Championships and the 2002 World Cup, scoring goals in all three tournaments. This makes him the only player to ever have scored in four major tournaments for England.
In April 2002, he was named as England's captain for a friendly match against Paraguay in place of the injured regular captain David Beckham. Owen was the youngest England skipper since Bobby Moore in 1963, and since then has regularly captained England during any absence for Beckham.
As of May 2005, Owen has been capped seventy times for England and scored thirty-two goals: he now lies fourth in the list of top scorers for the England team behind Bobby Charlton (49 goals), Gary Lineker (48) and Jimmy Greaves (44).
Private Life
Owen is currently engaged to long-time girlfriend, Louise Bonsall as of February 14, 2004 which was also Miss Bonsall's birthday. The couple are intending to marry in July 2005. The couple have a daughter, Gemma Rose Owen born on May 2, 2003 in the same place where both her parents were born -- the Countess of Chester Hospital, Chester, England. Bonsall and their daughter currently live with Owen in Madrid.
External Links