Melbourne Cricket Ground
From Academic Kids
For more coverage of cricket, go to the Cricket portal.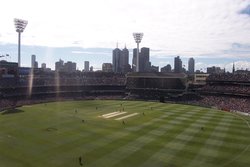 Missing image
Melb-MCG.JPG
The Melbourne Cricket Ground is an enormous sporting ground located in Yarra Park in inner Melbourne, home to the Melbourne Cricket Club. It holds the world record for the highest light towers. It is an easy walk from the city centre. The open-air stadium is one of the world's most famous cricket venues, with a massively attended Test match held there every year, starting on Boxing Day. Throughout the winter, it serves as the home of Australian Rules Football, with at least one game held there every week (usually more), and in late September the Grand Final fills the stadium to capacity. Up until the 1970s upwards of 120,000 people were occasionally crammed in but contemporary regulations limit the current capacity to approximately 99,000.
The "MCG", often referred to as "The G" by Melbourne residents, was also the primary venue for the 1956 Summer Olympics, and has held other events, from international rugby, through soccer World Cup qualifiers, to rock concerts.
The first interstate cricket match (then between colonies) took place at the MCG in March 1856. An English XI played a Melbourne team of 18 in 1862, and the world's first international Test Match took place at the MCG in March 1877.
The 1930s era (but generally regarded as ugly) Members' stand, as well as the 1950s Northern and Olympic stands, were demolished in late 2002. They are being replaced with a massive new structure in time for Melbourne to host the 2006 Commonwealth Games. The new stand will again push its capacity over the 105,000 mark.
An amusing local behaviour has emerged with regards to the Mexican wave. The patrons in the Members' Stand do not participate in the wave, so the rest of the crowd, particularly in the Southern Stand, boo the Members for refusing to participate, before the wave resumes in the Southern Stand as if no interruption had occurred. On occasions, when "the Members" have participated, they have arguably been booed more vigorously than when conforming to the expected behaviour. Indeed, when the original Members stand was demolished and there was nothing but a large hole between the stands, the crowd in the Southern Stand would still boo the gap.
See also
External links