Matsumoto, Nagano
From Academic Kids
Matsumoto (松本市) is a city located in Nagano Prefecture, Japan.
As of 2003, the city has an estimated population of 209,190 and a density of 786.81 persons/km². The total area is 265.87 km².
Matsumoto is surrounded by mountains and is acclaimed for its beautiful views. Access to hiking and climbing in the mountains is readily available by local bus transportation. Matsumoto has several historic features, such as Matsumoto Castle (松本城 -jō, a traditonal Japanese castle), Kaichi school (Kaichi gakkō) and Temari (traditional Japanese handball).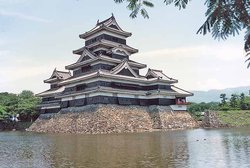 Matsumoto Castle was built more than 400 years ago. It is also called Crow Castle (Karasu Jō) because of its black appearance. The castle is open to tourists and displays many ancient weapons from and inspired by Europe including muskets and rifles.
Kaichi School is the first junior high school in Japan. The beautiful appearance of Kaichi School is much acclaimed.
Matsumoto is attractive to travellers not only because of the traditional culture but also its calm climate and its products. Matsumoto soba is famous and many are delighted by its delicate taste. Just north of Matsumoto is the world's largest wasabi farm. Wasabi can only be grown in extremely clean water and there is much local pride. In addition, Saitou Kinen Orchestra (Saitou commemorative orchestra) performs every year from summer to autumn and many famous musicians such as Seiji Ozawa come to play musical instruments. It is very popular and difficult to get tickets and many people wait in the line beginning two days before tickets go on sale.
Matsumoto, like many areas of Japan is home to abundant onsen (温泉 or hot springs).
The city was founded on May 1, 1907.
On the evening of June 27 and the morning of June 28, 1994, an outbreak of sarin called the Matsumoto incident occurred in Matsumoto.
External links