Soba
From Academic Kids
For the ancient kingdom in Nubia see Alodia.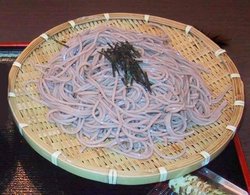 Soba
(蕎麦) are thin brown
buckwheat
noodles
, usually cooked and served with various toppings and
condiments
. The standard form is
kake soba
, "soba in broth".
Kake soba
consists of cooked soba noodles in a bowl of hot broth made of
dashi
,
mirin
, and
shoyu
(
Japanese
soy sauce) and topped with sliced green
onions
.
In Japan, soba noodles are served in a variety of situations. They are a popular inexpensive fast food at train stations throughout Japan, they are served by exclusive and expensive specialty restaurants, and they are also made at home. Markets sell instant condensed broth and dried noodles to make home preparation easy. The most famous Japanese soba noodles come from Nagano. Soba from Nagano is called Shinano Soba or Shinshu soba. Other popular noodles in Japan are udon, ramen, and somen.
One of the unusual side of soba is that unlike udon or ramen where varieties of noodles are named with a famed location of them, soba is named according to ingredients used to make soba.
Soba is also common throughout the United States, usually served as soba in broth (kake soba) or chilled noodles with nori (zaru soba) in the many Japanese restaurants and sushi restaurants in the country. It is also a common foodstuff sold at American grocery stores (usually in an Asian section).
Soba additionally is the Japanese word for the buckwheat. Wheat flour can be mixed with buckwheat flour, and ni-hachi (two-eight) soba, consisting of two parts of wheat and eight of buckwheat, is a popular noodle. In Japan ramen is sometimes called Chuka soba or Shina soba (both means Chinese soba.)
Common Soba Dishes
Like many Japanese noodles, soba noodles are often served chilled in the summer and hot in the winter. Toppings are chosen to reflect the seasons and to balance with other ingredients. Most toppings are added without much cooking, although some are deep-fried.
Kake soba 掛け蕎麦 – Hot soba noodles in dark broth, often topped solely with sliced green onions or sliced Japanese long onions.
Mori soba 盛り蕎麦 – Chilled soba noodles, eaten in summer. The noodles are boiled, chilled, and then served on a flat basket or plate. Accompanied by a chilled dipping sauce, usually a strong mixture of dashi, mirin, and shoyu. Eaten with wasabi.
Zaru soba 笊蕎麦 – mori soba topped with shredded nori seaweed.
Kitsune soba – Hot soba in broth topped with abura age (deep-fried tofu).
Tempura soba 天麩羅蕎麦 – Hot soba in broth topped with various tempura items, especially shrimp.
Tanuki soba – Hot soba in broth topped with deep-fried tempura batter (ten-kasu).
Hiyashi tanuki – Cold tanuki soba. Eaten in the summer.
Tsukimi soba – Hot soba in broth with an egg. A raw egg is allowed to poach in the hot soup.
Tororo soba – Hot soba in broth topped with Japanese tororo potato.
Hiyashi tororo – Cold tororo soba. Eaten in the summer.
See also
External links