MARTA
From Academic Kids
Missing image
Marta.gif



MARTA
is the common name for
Atlanta
's
rapid transit
system, consisting of a
network
of
bus
routes
linked to an
urban heavy rail
metro
system. It is operated by the
Metropolitan Atlanta Rapid Transit Authority
.
The system was established in 1971 with a signed agreement between DeKalb and Fulton counties, allowing such a system to run between the two counties. Construction on the rail lines began in 1975 and the first rail service began in June 1979.
Shoppers in Fulton and DeKalb counties pay an extra 1% sales tax to support MARTA. Metro Atlanta's inner suburban counties, Cobb, Gwinnett, and Clayton initially agreed to join MARTA but refused membership when voters in their respective counties voted against paying to help fund the system. As a result, all five counties have representation on the MARTA Board of Directors, though only Fulton and DeKalb counties give financial support to MARTA. The inner suburban counties have instead created their own independent bus systems; Cobb Community Transit in 1989 (July 10), Gwinnett County Transit in 2001 (Nov. 5), and C-TRAN in 2001 (Oct. 1) respectively. The system does not receive financial support from the state of Georgia, though it does receive U.S. federal transit subsidies and grants for capital development. By law, half of all MARTA revenues (sales tax plus fare box) must be spent on operations, half on capital expenditures like expanding the system.
Rail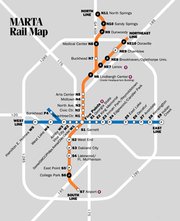 Two main lines cross the city, meeting at the Five Points station downtown. The south line goes to Hartsfield International Airport, the north line to North Springs and to Chamblee and Doraville on the northeast line. The west line goes to Hamilton E. Holmes station, and the east to Indian Creek station. There is also a short stub line, the Proctor Creek branch, with one station (Bankhead), extending from the west main line after Ashby station.
The most likely expansion of the rail system at present will be an extension of the west line from Hamilton E. Holmes to Fulton Industrial Boulevard. The north line may eventually be extended to Windward Parkway in Alpharetta with three stations. Extension of the Northeast and South lines is blocked by nonparticipating counties, though the south line may be extended another station with the planned construction of an additional terminal at the Airport.
Stations
North/south (orange line)
Missing image
SCEhardt_MARTA_N3.jpg
East/west (blue line)
Bus
External links