From Academic Kids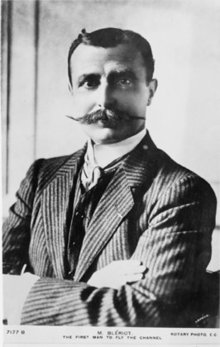 Louis Blériot (July 1 1872 – August 2 1936) was a French inventor and engineer, who performed the first flight over a large body of water in a heavier-than-air craft.
Born in Cambrai, Louis Blériot studied engineering at the École Centrale Paris. He developed an early interest in aviation and in 1900, built a motor-powered machine called an ornithopter, which was intended to fly by flapping its wings. Like other ornithopters before, this experiment failed, but he continued working toward a practical aeroplane.
During 1903, Blériot teamed up with Gabriel Voisin, another aircraft designer, to form the Blériot-Voisin Company. The company built a floatplane glider, which flew during 1905. They also developed a biplane powered by an Antoinette motor. The company broke up in 1906, and Blériot began to build and fly aircraft of his own design.
As lightweight engines became available, he developed planes with various configurations ranging from box-kite biplanes to a canard (tail-first) monoplane. The Blériot V was the world's first successful monoplane. This aeroplane got off the ground in 1907 but soon crashed and was abandoned.
A 1000 pound prize being offered by the London Daily Mail for the first successful flight across the English Channel interested Blériot and encouraged him to develop his fourth monoplane and first truly successful aircraft, the Blériot XI. After setting a European endurance record of 36 minutes 55 seconds and winning a cross-country prize, Blériot felt confident about embarking on his cross-Channel trip. On July 25, 1909 he made the trip from Calais to Dover in 37 minutes, delighting the French and worrying the British, who felt that they had suddenly become vulnerable to air attack.
Missing image
Bleriot.xi.680pix.jpg
Shortly after, Blériot turned his attention to aeronautical design and engineering. He became president of the floundering aircraft company Société pour les Appareils Deperdussin in 1914. He renamed the company Société Pour l'Aviation et ses Dérivés (SPAD) and turned it into one of France's leading manufacturers of combat aircraft. During World War I, SPAD built more than 5,600 aircraft for France and exported some to Britain and other countries. He also opened flying schools before World War I in England at Brooklands and Hendon Aerodromes as well as a factory in 1917 at Addlestone, near Brooklands, Surrey.
After the war, Blériot formed his own company, Blériot-Aéronautique, for the development of commercial aircraft. He died in Paris in 1936 and was interred in the Cimetière des Gonards in Versailles.
See also
External link
de:Louis Blériot fi:Louis Blériot fr:Louis Blériot ja:ルイ・ブレリオ nl:Louis Blériot sv:Louis Blériot