List of Tesla patents
From Academic Kids
Below is a list of Tesla patents. Nikola Tesla was an inventor who, it is said, accumulated 700-plus patents worldwide for his inventions. Some of Tesla's patents are not accounted for, and various sources have discovered some that have lain hidden in patent archives. There are a minimum of 272 patents issued to Tesla in 25 countries that have been accounted for. Many of Tesla's patents were in the United States, Britain, and Canada, but many other patents were approved in countries around the globe. Many inventions developed by Tesla were not put into patent protection(Cheney, 62).
Introduction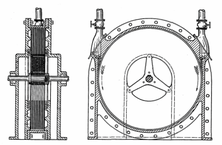 Tesla's inventions and developments include the induction motor, the bifilar coil, various devices that use rotating magnetic fields, the alternating current polyphase power distribution system, the fundamental devices of systems of wireless communication (legal priority for the invention of radio), radio frequency oscillators, devices for voltage magnification by standing waves, logic gates for secure radio frequency communications, devices for x-rays, devices for ionized gases, devices for high field emission, devices for charged particle beams, methods for providing extremely low level of resistance to the passage of electrical current, means for increasing the intensity of electrical oscillations, voltage multiplication circuitry, devices for high voltage discharges, devices for lightning protection, the bladeless turbine, and VTOL aircraft.
Recent references to Tesla's patents include US5548819 (Method and apparatus for communication of information), US5908444 (Complex frequency pulsed electromagnetic generator and method of use), US4869598 (Temperature-sensitive multiple-layer thin film superconducting device), and US6104107 (Method and apparatus for single line electrical transmission).
Below are Tesla's known patents:
American
patent number - name of patent - date - notes on patent
First fifty patents
Fifty-one to one hundred
One hundred and one plus
Reissued patent
Template:US patent - Method of Insulating Electric Conductors - 1900 October 23 - Expounding on Faraday's hypothesis of freezing substances make them possess a higher dielectric level to insulate transmission conductors; Improvements in the method set out by Faraday; Method of insulating electrical conductors which consist in surrounding or supporting said conductors by a material which acquires insulating properties when frozen or solidified; Method of maintaining a conductor within gaseous cooling agent by the continuous application of said agent; Trough or conduit with circulating cooling agents.
Anomalies
In the book "Man out of Time", there are references to missing patents (Cheney, pg. 236). Some patents of his experiments are lost to history, as well as some of the scientific notes and records pertaining to Tesla's patents. These, though, are alluded to in the redacted FBI files. These may be among effects seized by government agents and military intelligence officers following the Tesla's death in 1943. In various patent logs, it is recorded Tesla received Template:US patent for "Filings Tube" (such as Charles Henry Isewall's "Wireless Telegraphy" (New York, 1904)[1] (http://www.yurope.com/org/tesla/patente.htm)). This number does not match the U. S. Patent office records (that patent is issued to G. Kelly for an "Illuminating torch").
British
patent number - name of patent - date - notes on patent
GB1877 - Improvements in Electric Lamps
GB2801 - Improvements in Reciprocating Engines and Means for Regulating the Period of the same
GB2812 - Improvements in Methods of and Apparatus for the Generation of Electric Currents of Defined Period
GB2975 - Improvements in Dynamo Electric Machines
GB6481 - Improvements relating to the Electrical Transmission of Power and to Apparatus therefor
GB6502 - Improvements relating to the Generation and Distribution of Electric Currents and to Apparatus therefor
GB6527 - Improvements relating to Electro-motors
GB8575 - Improved Methods of and Apparatus for Generating and Utilizing Electric Energy for Lighting Purposes
GB11293 - Improvements relating to the Utilization of Electromagnetic, Light, or other like Radiations Effects or Disturbances transmitted through the Natural Media and to Apparatus therefor
GB11473 - Improvements in Alternating Current Electro-magnetic Motors
GB13563 - Improvements in, and relating to, the Transmission of Electrical Energy
GB14550 - Improvements relating to the Insulation of Electric Conductors
GB16709 - Improvements relating to the Conversion of Alternating into Direct Electric Currents
GB19420 - Improvements in Alternating Current Electro-magnetic Motors
GB19426 - Improvements in the Construction and Mode of Operating Alternating Current Motors
GB20981 - Improvements to the production, regulation and utilization of electric currents of high frequency, and apparatus therefor - 1896 August 22
GB24001 - Improved method of imparting energy to or deriving energy from a fluid and apparatus for use therein - 1910 October 17 - Bladeless turbine having disc rotors; Openings in the central portions and separating star-washers; Riveted into single, solid structure; Keyed to the shaft; Turbine or rotary engine.
GB24421 - Improvements in systems for the transmission of electrical energy and apparatus for use therein - 1897 October 21
GB26371 - Improvements in the method of and apparatus for controlling the mechanism of floating vessels or moving vehicles - 1898 December 13
GB174544 - Improvements in methods of and apparatus for the generation of power by elastic fluid turbines - 1921 April 1
GB186082 - Improvements in the Construction of Steam and Gas Turbines - 1922 September 25 - Two heavier end-plate; Tapered toward the periphery; Reduces maximum centrifugal stress; Turbine.
GB186083 - Economic Transformation of the Energy of Steam by Turbines - 1922 September 25 - Improvements to increase efficiency of steam power plants and thermo-dynamic transformers; Producing motive power; Economical; Operable at very high temperature; Operable with cheap fuel; Avoids deteriorating actions previously common; System is related to the Tesla turbine.
GB186799 - Process for and apparatus for balancing rotating machine parts - 1921 September 02
Canadian
patent number - name of patent - date - notes on patent
Other countries
The following is a list of other countries that hold known patents by Tesla. The number following the country is the number of known patent in their records. This is not an exhaustive list. The total number may be incomplete and additional countries still may hold patents unknown.
| Country | | Number |
| --- | --- | --- |
| Argentina | | 1 |
| Australia | | 3 |
| Austria | | 4 |
| Belgium | | 21 |
| Brazil | | 2 |
| Cuba | | 1 |
| Denmark | | 3 |
| German | | 19 |
| France | | 26 |
| India | | 1 |
| Italy | | 11 |
| Japan | | 1 |
| Hungary | | 7 |
| Mexico | | 1 |
| New South Wales | | 2 |
| New Zealand | | 1 |
| Norway | | 3 |
| Rhodesia | | 1 |
| Russia | | 4 |
| Spain | | 4 |
| Switzerland | | 4 |
| Sweden | | 4 |
| Transvaal | | 1 |
See also
Related links and references
General
Patent lists
Books
Patent resources
Futher readings
"Mr. Tesla's Circuit Interrupters". The Electrical World, August 20, 1898.
Martin, Thomas Commerford. "The Inventions, Researches and Writings of Nikola Tesla - 1894", Kessinger Publishing Company, March, 1997. ISBN 1564597113
Johnston, Ben [Ed.]. "My Inventions: The Autobiography of Nikola Tesla", Hart Brothers Publishing, October, 1982. ISBN 0910077002
Cheney, Margaret, Tesla: man out of time, ISBN 0743215362