Lake Michigan
From Academic Kids
Missing image
LightningVolt_Lake_Michigan_Sunset.jpg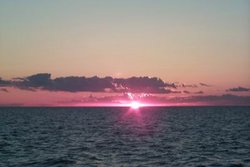 Lake Michigan is one of the five North American Great Lakes. It is bounded, in clockwise order from the south, by the US states of Indiana, Illinois, Wisconsin, and Michigan, which is named for it.
The word Michigan was originally used to refer to the lake itself, and is believed to come from the Chippewa Indian word meicigama, meaning "great water."
Lake Michigan is the only one of the Great Lakes wholly within the borders of the US; the others are shared with Canada. It has a surface area of 22,300 square miles (57750 square km), making it the largest freshwater lake in the US, the largest lake entirely within one country, and the 5th largest lake in the world. It is 307 miles long by 118 miles wide. It greatest depth is 923 feet (281 m). It contains a volume of 4,918 cubic km of water. Its surface averages 580 feet above sea level, the same as Lake Huron, to which it is connected through the Straits of Mackinac. Geologically, Michigan and Huron are the same body of water, but are geographically distinct. They are separated by the Mackinac Bridge. Both lakes are part of the Great Lakes Waterway. In earlier maps (http://www.libs.uga.edu/darchive/hargrett/maps/1733d4.jpg) of the region, the name "Lake Illinois" has been found in place of "Michigan".
Major Cities
Some 12 million people live along Lake Michigan's shores. Many small cities in Northern Michigan are centered around a tourist base that takes advantage of the beauty and recreational opportunities offered by Lake Michigan. These cities have large seasonal populations that arrive from Chicago and inland cities in Southern Michigan. The southern tip of the lake is heavily industrialized. Cities on the shores of Lake Michigan with populations larger than 30,000 include:
Beaches
Missing image
Lake_michigan_1925.jpg
Lake Michigan beaches, especially those beaches in Michigan and northern Indiana, are known for their beauty. The sand is soft and near-white, there are often high sand dunes covered in prickly green dune grass and rambling sand cherries, and the water is cold and clear. When standing on beaches in lower Michigan, it is impossible to see across the lake to Wisconsin, providing a view similar to that found on ocean coasts.
Parks
Several state parks are located on the lakeshore as well as the Sleeping Bear Dunes National Lakeshore and Indiana Dunes National Lakeshore. Part of the shoreline is also in the Hiawatha National Forest and the Manistee National Forest. Part of the Michigan Islands National Wildlife Refuge is located in Lake Michigan.
Car Ferries
Motorists can cross Lake Michigan by a ferry that runs from Ludington, Michigan to Manitowoc, Wisconsin. Lake Express, an additional ferry started in 2004, allows motorists to cross the lake between Muskegon, Michigan and Milwaukee, Wisconsin, at a much higher speed compared to the Ludington ferry.
Islands
Lighthouses
See also: Lighthouses in the United States#Michigan
See Also
da:Lake Michigan
de:Michigansee et:Michigani järv es:Lago Míchigan io:Lago Michigan fr:Lac Michigan hr:Jezero Michigan he:ימת מישיגן la:Lacus Michigan nl:Michiganmeer ja:ミシガン湖 pl:Jezioro Michigan pt:Lago Michigan simple:Lake Michigan sk:Michiganské jazero fi:Michiganjärvi sv:Michigansjön