Kermit the Frog
From Academic Kids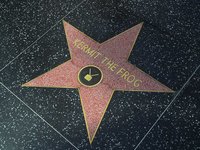 Kermit the Frog is a Muppet character and one of puppeteer Jim Henson's most famous creations. Kermit was voiced by Henson until his death in 1990, and has been voiced by puppeteer Steve Whitmire since then.
An early version of Kermit appeared in 1955, in a five minute puppet show for WRC-TV Sam and Friends. The prototype Kermit was created of a green ladies' coat and a couple of ping-pong balls for eyes. He and Rowlf, also created from scraps, were Henson's first puppets. The early Kermit was a sort of lizard-like creature; Kermit's first appearance as a frog was in the television special Hey Cinderella in 1969, and he's been a frog ever since.
Kermit had his big break in 1971, with frequent appearances on Sesame Street as a news reporter interviewing nursery rhyme characters. One of his most memorable works was the song, It's Not Easy Being Green. Kermit's song "The Rainbow Connection" was also a big hit from The Muppet Movie and has become the signature song of The Jim Henson Company.
In 1990, Kermit spoke at creator Jim Henson's funeral. In 1996, he gave a commencement speech at Southampton College in which he came out as an environmentalist. In 2001 he appeared in the TV show Hollywood Squares.
Kermit also served as the mascot for The Jim Henson Company, until the sale of the Muppet characters to The Walt Disney Company.
A statue of Henson and Kermit was erected on the campus of Henson's alma mater, the University of Maryland, College Park.
Biography
On Extreme Makeover: Home Edition, he commented to Ty Pennington that "You know, as a tadpole in the swamp, I had 3,265 brothers and sisters!"
In The Muppet Show television series, Kermit was frontman and the long-suffering stage manager of the fictional theatre show. He continually struggled to produce a quality program, for a sparse and disaffected audience. Kermit also appeared in several Muppet movies and spin-off series, including Muppets Tonight.
As a running joke in the shows, Kermit was pursued by leading lady Miss Piggy. He is close friends with Fozzie Bear and has a nephew, Robin.
Kermit's official birthday is May 9th, 1955.
Kermit was awarded an honourary doctorate of Amphibious Letters on May 19, 1996 at Southampton College, where he also gave a commencement speech.
As a television personality
Missing image
Tv_the_muppet_show_bein_green.jpg
Kermit has made a number of guest appearances on other shows. In 1979, Kermit was a guest host for the Tonight Show, substituting for Johnny Carson. He continued to make appearances long after The Muppet Show had been cancelled in 1981.
In 1987, Kermit and other Muppet characters co-hosted an ABC News special which attempted to explain the stock market and the potentially disquieting events of the Black Monday stock price decline in a manner that both informed and entertained the audience about the complex subject.
Such was his popularity in the UK that in 2000 he hosted the "1976" episode of the BBC's nostalgia series I Love the 1970s (amongst other things, he recalled the phenomenon of punk rock and, naturally, The Muppet Show) and even joined fellow American Ruby Wax for a couple of between-band links at the Queen's Golden Jubilee concert in 2002.
As an April fools joke, Kermit hosted CNN's Crossfire in 2002.
Rumors
There have been rumors that Kermit was named after the original Sesame Street Muppet designer, Kermit Love. Since Jim Henson had worked on Kermit the Frog since he was in grade 8, this is impossible. Supposedly, he was named after one of Jim Henson's childhood friends, Theodore Kermit Scott.
It is claimed that Kermit's Tonight Show appearance was so well received that the show's producers resolved never to repeat the stunt for fear of angering the regular host, Johnny Carson.
Quotes
"It's not easy being green."
"Hi ho. Kermit the Frog here."
"Time's fun when you're having flies."
See also
Kermit (the computer communications and file-transfer protocol)
External links