Katyusha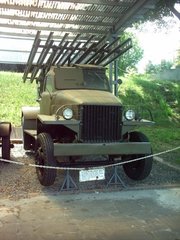 Missing image
Rs82lagg3.jpg
Missing image
Rs132damage.jpg
The 82mm BM-8 and 132mm BM-13 Katyusha rocket launchers were built and fielded by the Soviet Union in World War II. These launchers acquired this name, unofficial but immediately recognized in the Red Army, from the title of a popular Russian wartime song, Katyusha. The song is about a girl longing for her beloved who is away from her while serving in the military. Katyusha is a tender Russian diminutive of a female name: Ekatherina (Katherine) -> Katya -> Katyusha.
The weapon was also known as "Stalin's Organ", so named by German troops due to its resemblance to a pipe organ. Stalin's Organ was used on many platforms during World War II, mounted on trucks (including Studebaker US6's provided by U.S. Lend Lease), on tanks, and occasionally even on tractors; modified versions were also mounted on airplanes. It was a relatively simple design consisting of racks of parallel rails on which rockets were mounted, with a folding frame to raise the rails to launch position. Each truck had 48 launchers. The rocket was 1.8 m long and had a 22 kg explosive warhead with a range of about 5 km. The Katyusha was often massed in very large numbers to create a shock effect on enemy forces.
The idea for the Katyusha rocket launcher was sparked by Nazi Germany's development of the six-barreled Nebelwerfer rocket mortar in 1936. The Red Army began work on rocket artillery design in 1938, and deployment of the 82mm BM-8 was approved on June 21, 1941. On July 14, 1941 an experimental artillery battery of seven launchers was first used in battle against the German army at Orsha in Belarus, under the command of Captain I. Flerov. The first eight regiments of missile artillery (36 launchers in each unit) were then created on August 8, 1941. An improved BM-13N ("normalized") design was developed in 1943, and more than 1800 of this model were manufactured by the end of WWII. The simple design of Stalin's Organ lacked accuracy, therefore its primary usage was to heavily bombard enemy forces by firing in salvos for area coverage, psychological effects being an important factor.
The term is now often used to describe small artillery rockets in general, whether they are Soviet-derived or originally built. Such rockets are often used in guerilla warfare, for example by the Viet Cong, Hezbollah, the Iraqi insurgency, and the Taliban.
Related articles:
Template:Commonsde:Stalinorgel fr:Katyusha he:קטיושה ja:カチューシャ (兵器) pl:Katiusza sv:Stalinorgel