Karelian Isthmus
From Academic Kids
See Karelia (disambiguation) for other meanings of the name Karelia.
The Karelian Isthmus is the narrow stretch of land between the Gulf of Finland and Lake Ladoga in northwestern Russia. The city of Vyborg and the town of Priozersk are situated on the northwestern end of the isthmus. In the southeast it reaches to Saint Petersburg. Since World War II, when the fronts moved back and forth over the isthmus, it belongs to the Leningrad Oblast of Russia.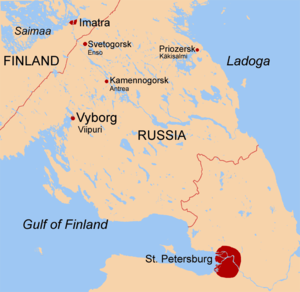 In the first millennium, Finnic people wandered to the Karelian Isthmus.
In 11th century, Sweden and Novgorod started to compete tax holding rights. Sweden gained them in area near Viipuri and Novgorod in other parts of isthmus.
During 17th century Sweden gained the whole isthmus and also Ingria. In this time many Karelians escaped to Tver's Karelia.
From 1721-1812 the isthmus belonged to the Russian Empire, won in the Great Northern War that started with the Russian conquest of Ingria where the new imperial capital, Saint Petersburg, was founded (1703) in the southern end of the isthmus, in place of old Swedish town Nyenskans. Then in 1812, the northwestern half was transferred, as a part of Old Finland, to the semi-autonomous Grand Duchy of Finland, created in 1809 and in a personal union with Russia.
Due to the rich soil, rich fishing waters and the proximity to Saint Petersburg, the Karelian Isthmus became the wealthiest part of Finland once the industrial revolution had gained momentum in the 19th century. When Finland declared its independence in 1917, the isthmus remained Finnish.
In November 1939, the Soviet Union invaded Finland in what became known as the Winter War. Soviet forces were able to penetrate the well-defended Mannerheim Line across the isthmus in early 1940. Finland ceded the Karelian isthmus to the Soviet Union in the Peace of Moscow.
One year later, in 1941, Germany invaded the Soviet Union in Operation Barbarossa which led to the Great Patriotic War for the Russians and the Continuation War for the Finns. Finland initially regained the lost territory (co-belligerent with Nazi Germany), reaching the Russian side of the border of 1939 and seen by the Russians as indirectly contributing to the Siege of Leningrad.
On 9 June, 1944, strong Soviet forces opened a counter-offensive and pushed the front from Leningrad to Vyborg in ten days. In the Battle of Tali-Ihantala, 25 June–9 July, the Finns concentrated their military strength and brought the offensive to a halt at the River Vuoksi, in the northwesternmost part of the isthmus, at the closest point only 40 kilometers from the border of 1940, that again was recognized by Finland in the Peace of Paris, 1947. Since then the isthmus has belonged to the Leningrad Oblast and been inhabited by Russian people.
After the wars most of the old Finnish names were renamed to Russian ones.fi:Karjalankannas