John D. Rockefeller
From Academic Kids
For other uses of the surname Rockefeller, see Rockefeller (disambiguation)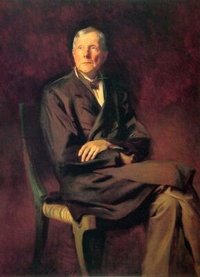 Missing image
John-D-Rockefeller-sen.jpg
John Davison Rockefeller (July 8, 1839 – May 23, 1937) was an American capitalist most known for his role in the early petroleum industry and the founding of Standard Oil (ExxonMobil is the largest of its descendants). Through his ruthless business tactics, Rockefeller guided Standard Oil to be the largest oil refining business in the world, and was for a time himself the richest man in the United States. Much of this wealth was then given away, resulting in his legacy as a great philanthropist.
Early years
John Davison Rockefeller was born in Richford, New York, the second of the six children to William Avery Rockefeller (November 13, 1810 - May 11, 1906) and his wife Eliza Davison (September 12, 1813 - March 28, 1889). When he was a boy, his family moved to Moravia and later to Owego, New York. In 1853 his family moved to Cleveland, Ohio, where the family bought a house in Strongsville, near Cleveland, and John entered Central High School in Cleveland. While he was a student he rented a room in the city and joined the Erie Street Baptist Church, which later became the Euclid Avenue Baptist Church. Active in its affairs, he became a trustee of the church at the age of 21.
He left high school in 1855 to take a business course at Filsom Mercantilile College. He completed the six month course in three months, and after looking for a job for six weeks, he was employed as assistant bookkeeper by Hewitt & Tuttle, a small firm of commision merchants and produce shippers. Rockefeller was not paid until after he had worked there three months, when Hewitt gave him $50 (3.57 a week) and told him that his salary was being increased to $25 a month. A few months later he became the cashier and bookkeeper.
In 1858 he went into the produce commission business. His firm, Clark & Rockefeller, invested in an oil refinery in 1862, and in 1865 Rockefeller sold out his share to his partner Clark, paid $72,500 for a larger share in another refinery, and formed the partnership of Rockefeller & Andrews.
At about the same time Rockefeller's brother, William, started another refinery. In 1867 Rockefeller & Andrews absorbed this business, and Henry M. Flagler joined the partnership. In 1870 the two Rockefellers, Flagler, Andrews and a refiner named Stephen V. Harkness formed the Standard Oil Company, with John D. Rockefeller as president.
Standard Oil
In the early 1870s, Charles Pratt and Henry H. Rogers, two of the early pioneers of the emerging U.S. petroleum industry, became involved in conflicts with the infamous South Improvement Company, which was basically a scheme to obtain favorable net rates from the Pennsylvania Railroad (PRR) and other railroads through a secret system of rebates. Rockefeller and the South Improvement Company scheme outraged independent oil producers in western Pennsylvania and refineries there and afar alike.
The opposition to the South Improvement Company scheme among the New York refiners was led by Rogers. The New York interests formed an association, and about the middle of March, 1872, sent a committee of three, with Rogers, of Charles Pratt and Company, as head, to Oil City to consult with the Oil Producers' Union there. Their arrival in the oil regions was a matter of great satisfaction. Working with the Pennsylvania independents, they managed to forge an agreement with the PRR and other railroads whose leaders eventually agreed to open rates to all and promised to end their shady dealings with South Improvement. The oil men were most exultant, but their joy was to be short-lived, for Rockefeller had already begun forming his Standard Oil organization and was busy trying another approach, which included frequently buying-up opposing interests.
Rockefeller approached Charles Pratt with his plans of cooperation and consolidation. Pratt talked it over with Rogers, and they decided that the combination would benefit them. Rogers formulated terms, which guaranteed financial security and jobs for Pratt and himself. John D. Rockefeller quietly accepted the offer on Rogers' exact terms. Charles Pratt and Company (including Astral Oil) became one of the important formerly independent refiners to join Rockefeller's organization in 1874. Pratt's son, Charles Millard Pratt (1858-1913) became Secretary of Standard Oil. Henry H. Rogers became one of Rockefeller's key men.
Monopoly
Standard Oil gradually gained virtual control of oil production in America. Its business methods, which brought immense wealth to the ownership and possibly lower prices for consumers, were widely and severely criticized. Its growth increased further in 1882, when separate companies were organized in each state; and in later years, as the first great American trust, the Standard Oil Company was hotly attacked during the anti-trust movement, especially after the publication of the 1904 book The History of the Standard Oil Company, by Ida Tarbell, whose father had been driven out of business by Rockefeller's business arrangement with the South Improvement Company.
Rockefeller himself retired from active business in 1895 though retained his title as president until 1911. At one time he had large iron interests, including mines and ore-carrying ships, on Lake Superior. He sold those to U.S. Steel. He also played a key role in the Chase Manhattan Bank, as did some of his descendents. By 1901, he was worth about $900 million and is believed to have been the world's richest man at the time. His net worth when adjusted for inflation would put him in the top twenty modern day billionaires; however, when adjusted for the size of the United States economy in his day, his net worth would dwarf that of any of today's billionaires. In 2001, it was estimated that in contemporary money Rockefeller would be worth $200 billion.
On May 15, 1911, the Supreme Court of the United States held that Standard Oil, which held 64% market share, was a monopoly and ordered it to be broken up, resulting in the creation of approximately 37 new companies.
Private life
Rockefeller married Laura Celestia Spelman (1839-1915), a teacher, on September 8, 1864 in Cleveland. The couple had five children — four daughters and a son. The oldest daugter, Bessie (1866-1906), married Charles Strong. The second daughter, Alice (1869-1870), died in infancy. Alta (1871-1962), married E. Parmalee Prentice, and the youngest daugter, Edith (1872-1932), married Harold Fowler McCormick. The only son, John D., Jr. (1874-1960), inherited much of the family fortune and continued his father's philanthropic work.
Rockefeller died on the morning of May 23, 1937, at the Casements, his home in Ormond Beach. He was 97 years old and was buried in Lake View Cemetery in Cleveland.
Legacy
While he had always given money to charities in accordance with his strong Baptist beliefs, his public reputation while he was active in business was strongly negative. On March 3, 1910 Rockefeller announced his retirement from managing his businesses and devoted his attention to philanthropy. By the time of his death it is estimated he had given away about $500,000,000 (well over $5 billion in today's dollars), and his image had become largely benign. He was particularly notable as one of the earliest and largest private benefactors of scientific medical research. He founded the University of Chicago in 1890, the Rockefeller Institute for Medical Research (now Rockefeller University) in New York City in 1901, the General Education Board in 1902, the Rockefeller Foundation in 1913, and the Laura Spelman Rockefeller Memorial in 1918, as well as giving large gifts to other institutions. His gift of $5 million dollars helped found the Great Smoky Mountains National Park.
Rockefeller also made huge gifts to members of his family in the last decades of his life, especially to his son John D. Rockefeller, Jr., and his descendents remained among the richest and most influential families in the United States throughout the 20th century. He retained only a small fraction of the wealth he had made when he died in Ormond Beach, Florida in 1937.
Rockefeller's grandson, Nelson Rockefeller, was Vice President of the United States under Gerald Ford and another grandson Winthrop Rockefeller served as Governor of Arkansas. His great-grandson Jay Rockefeller (John D. Rockefeller IV) is currently a member of the U.S. Senate.
John D. Rockerduck, a Walt Disney Company character who is popular in Europe, is named after him, because of all of his good deeds. An example is his habit of giving away shiny new dimes to others on the street.
See also
Additional reading
External links
fr:John Davison Rockefeller nl:John D. Rockefeller ja:ジョン・D・ロックフェラー pt:John Davison Rockefeller sv:John D Rockefeller uk:Джон Д. Рокфелер pl:John Rockefeller he:ג'ון_ד._רוקפלר zh:洛克菲勒