Imre Nagy
From Academic Kids
Imre Nagy (born in Kaposvár, Hungary June 7 1896, executed June 16 1958) was Prime Minister of Hungary on two occasions.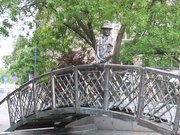 He was born in a peasant family and was apprenticed to a locksmith, before fighting in the Austro-Hungarian Army during World War I on the Eastern Front, was taken prisoner 1915. He then became a Communist, fighting in the Red Army. He returned to Hungary after WWI and served in the brief government of Béla Kun. In 1929 he went to the Soviet Union, becoming involved in agricultural research, and working in the Hungarian section of Comintern.
During the time Nagy spent in the Soviet Union, many non-Russian communists were arrested, imprisoned and executed by the Soviet government. In particular, Béla Kun who lead the Hungarian Soviet Republic disappeared in the mid 1930s. This incident spurred panic amongst Hungarian communist emigres (see Born 1900). At this time Nagy became an agent for the Soviet security apparatus. This was common practice, and the fact that Nagy survived the 1930s and 1940s indicates that he operated for the security apparatus. (see Granville 1995 and TsKhSD, F. 89, Per. 45, Dok. 82.). It is apparent that Nagy had ceased operating for the Soviet security apparatus by the late 1940s, as at this time he fell from ministerial positions in Hungary.
In 1944 he returned to Hungary again, and served in the Communist government, as Minister of Agriculture and in other posts, becoming an expert on peasants' welfare.
After two years as Prime Minister (1953-1955), during which he promoted his "New Course" Nagy was forced to resign and was expelled from the Communist Party by hardline colleagues, including First Secretary Mátyás Rákosi as a result of the liberalizing tendency that he showed in this office. He then spent time teaching.
He became Prime Minister again during the brief anti-Soviet revolution in 1956, through popular support, replacing the hardliner Ernő Gerő.
On 1 November he appealed to the West for help for Hungary.
When the revolution was crushed by the Soviet invasion of the country, Nagy, with others, secured sanctuary in the Yugoslav Embassy. He was arrested, 22 November, in violation of a guarantee of free passage and taken to Romania. He was then returned to Budapest and executed (hanged), with others, after a secret trial in June 1958.
Missing image
Imre_Nagy,_Budapest,_facing_Parliament.jpg
He was buried along with others in a distant corner (section 301) of the Municipal Cemetery outside Budapest to which access was not allowed until 1989. Next to his grave stands a memorial bell inscribed in Latin, Hungarian, German and English. The Latin reads: "Vivos voco Mortuos plango Fulgura frango," which is quaintly translated as: "I call the living, I mourn the dead, I chase the lightnings."
During the time when the Communist leadership of Hungary would not mark or allow access to his true burial place, a cenotaph in his honor was placed in Pčre Lachaise Cemetery in Paris. In 1989 he was rehabilitated and his remains reburied in a state funeral.
The collected writings of Nagy were published as "Imre Nagy On Communism."
In 2003 and 2004 the Hungarian director Márta Mészáros created a film on his life after the revolution, called "The Unburied Dead" (see its Imdb entry (http://imdb.com/title/tt0371307/)).