Gotland
From Academic Kids
Template:Alternateuses Gotland is the largest island in the Baltic Sea. At 2,994 km² it is also the largest island belonging to Sweden, ahead of Öland. Inhabitants of the island number 57,381 (2002 figure) and the primary income sources are tourism and agriculture.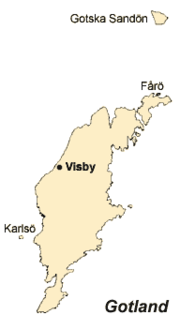 Missing image
Gotland_Landsat2000.jpeg

The main city on Gotland is Visby, an old Hanseatic city, sporting a largely intact city wall, as well as many historical buildings.
Gotland is the main island of:
After World War II at Gotland several new methods of electric power transmission were tested. So between Sweden and Gotland the first operational HVDC-system in the Western hemisphere was installed, the HVDC Gotland. In 1999 for the first time a windpark was connected by an HVDC-system (HVDC Visby-Nas)
Gotland has its own language branch called Gutniska.af:Gotland bg:Готланд da:Gotland de:Gotland eo:Gotlando pl:Gotlandia pt:Gotland sv:Gotland