Flag of Turkey
From Academic Kids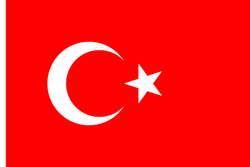 The Flag of Turkey (tr: Türk Bayrağı) is called Ay Yıldız in Turkish. It means 'moon star'.
The flag has a complex origin since it is an ancient design, being also quite similar to the last flag of the Ottoman Empire, which featured three crescents closely arranged in a triangular formation on a green or red background. The color red is a prominent color in Turkish history, especially regarding the bloody battles of the Turkish War of Independence. The crescent and star, while generally regarded as Islamic symbols today, have for long been used in Asia Minor, quite before the advent of Islam. The flag was originally simply a crescent on a green field, but this was changed in 1793 when Sultan Selim III changed the background to red. In 1844, the star was added. The star symbol actually dates back to the time of Constantine and it was considered a symbol of Mary in his time.
The flag is described according to various legends, the most popular of which include:
A reflection of the moon occulting a star, appearing in pools of blood after the battle of Kosovo in 1448, led to the adoption of the Turkish flag by Sultan Murad II.[1] (http://flagspot.net/flags/tr.html#mean)
A dream of the first Ottoman Emperor in which a crescent and star appeared from his chest and expanded, presaging the dynasty's seizure of Constantinople.[2] (http://flagspot.net/flags/tr.html#mean)
A crescent and star were spotted on the night of the fall of Constantinople to Mehmet II in 1453.
See also the Ottoman Flag.
The most widely accepted theory, however, tells of Kemal Ataturk, the founder of the modern Turkish Republic, walking on a battlefield one night after a victorious battle in the Turkish War of Independence, and seeing the reflection of the star and crescent formation, in a large pool of blood on the rocky hill terrain of Sakarya.
Construction
Missing image
Turkey_flag_const.png



| Letter | Measure | Length |
| --- | --- | --- |
| G | Width | 1 |
| A | Distance between the centre of the outer crescent and the seam of the white band | 1/2 G |
| B | Diameter of the outer circle of the crescent | 1/2 G |
| C | Distance between the centres of the inner and outer circles of the crescent | 0.0625 G |
| D | Diameter of the inner circle of the crescent | 0.4 G |
| E | Distance between the inner circle of the crescent and the circle around the star | 1/3 G |
| F | Diameter of the circle around the star | 1/4 G |
| L | Length | 1 ½ G |
| M | Width of the seam band | 1/30 G |
Colors
Name and Color Codes
Color
Scarlet (tr: Al) (RGB:227-10-23; Pantone:186c; CMYK:0-90-80-K)
Missing image
Turkey_flag_scarlet.png
Image:Turkey_flag_scarlet.png


White (tr: Beyaz) (RGB: 255-255-255; Pantone:Safe; CMYK:0-0-0-0)
Missing image
Turkey_flag_white.png
Image:Turkey_flag_white.png


de:Flagge der Türkei
fr:Drapeau de la Turquie it:Bandiera turca he:דגל תורכיה pl:Flaga Turcji tt:Törkiä bayrağı tr:Türk Bayrağı