Flag of Paraguay
From Academic Kids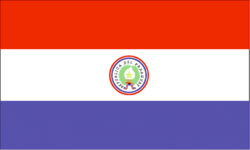 The flag of Paraguay was adopted in 1842. The emblems and proportions have varied over time.
The Paraguayan flag has three bright stripes on it that are colored red, white, and blue. The colors were influenced by French Tricolore, which is a symbol of liberation. The color symbolism is very rich to Paraguayan people. The red stands for patriotism, courage, heroism, equality and justice; white for purity, firmness, union, and peace; and blue for tranquility, love, knowledge, verity, and liberty.
Originally, the flag had the distinctive feature of having different emblems on each side. The front side bore the national coat of arms, which is a yellow five pointed star within a green wreath capped by the words "Republica de Paraguay". The star of May represents the date of Independence, May 15, 1811. The back side was of the Treasury Seal of Paraguay, a lion with a red cap of liberty on a pole. The Treasury Seal is symbolic of defense of national liberty which is represented by the lion guarding the liberty cap. The current flag, however, bears the national coat of arms on both sides.
Flag Day in Paraguay is celebrated on May 14, one day before Independence Day.
de:Flagge Paraguays he:דגל פרגוואי it:Bandiera del Paraguay ja:パラグアイの国旗 nl:Vlag van Paraguay pt:Bandeira do Paraguai sv:Paraguays flagga