Errol Flynn
From Academic Kids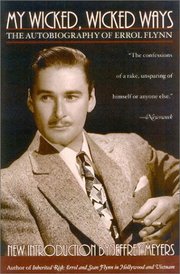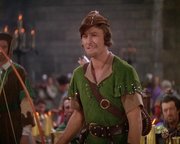 Errol Leslie Thompson Flynn (June 20, 1909–October 14, 1959), was a film actor born in Hobart, Tasmania, Australia, most famous for his romantic swashbuckler roles.
As a child he was taken to Sydney, where he attended two schools and was expelled from both. Shortly afterwards he moved to New Guinea, where he drifted from job to job. In the early 1930s he left for Britain and in 1933 got an acting job with Northampton Repertory Theatre, where he worked for two years. After gaining this experience in the acting trade, he moved to Hollywood looking for film work.
Although he had not really planned an acting career, Flynn become a star with his third film, Captain Blood, in 1935. He became typecast as a swashbuckler and made several such films including The Adventures of Robin Hood (1938) (widely regarded as his best film in this genre and an acknowledged Hollywood classic) The Sea Hawk (1940), and The Adventures of Don Juan (1948). He also played opposite Olivia de Havilland in the western Dodge City (1939). Overall, Flynn appeared in eight films with de Havilland.
During the shooting of The Private Lives of Elizabeth and Essex (1939), Flynn and co-star Bette Davis had some legendary off-screen fights, with Davis striking him hard in retaliation for his earning more than she ($6000/wk vs. $5000/wk). Their relationship was always strained but Warner Brothers teamed them up on three separate occasions. A contract was even presented to loan them out as Rhett and Scarlett in Gone With the Wind; however, each declined to work with the other on the project.
He was well known for having wild parties. However, his reputation caught up with him when teenagers Betsy Hansen and Peggy Satterlee accused him of statutory rape in November 1942. A group organized to support Flynn, named the American Boys Club for the Defense of Errol Flynn (ABCDEF); its members included William F. Buckley, Jr.. The trial took place in January and February 1943, and Flynn was cleared of the crime. The incident served to increase his reputation as a lady's man, and the term "In Like Flynn" came to be synonymous with succeeding in romantic endeavors. His suave, debonnaire, and devil-may-care attitude towards both ladies and life has been immortalized into the English language by author Benjamin S. Johnson as "Errolesque" in his treatise on the subject, "An Erroleque Philosophy on Life." [1] (http://www.msnbc.msn.com/id/6929318/page/2/)
By the mid 1950s, Flynn was something of a self-parody: heavy alcohol abuse left him noticeably bloated in his last years. But he still won some acclaim as a drunken ne'er-do-well in The Sun Also Rises (1957). His somewhat unreliable autobiography, My Wicked, Wicked Ways, was published just months after his death and contains humorous anecdotes about Hollywood. Flynn wanted to call the book In Like Me, but his publishers refused.
Flynn was married three times, to actress Lili Damita from 1935 until 1942 (one son, Sean); to Nora Eddington (1924–2001) from 1943 until 1948 (two daughters, Deirdre and Rory); and to actress Patrice Wymore from 1950 until his death (one daughter, Arnella Roma). In the late 1950s, he met the 14-year-old Beverly Aadland at the Hollywood Professional School, whom he courted during his last few years. He planned to marry her and move to their new house in Jamaica, but during their trip to Vancouver he died from a heart attack. His only son, Sean Flynn, became an actor and later a war correspondent who disappeared in Cambodia in 1970 during the Vietnam War. The younger Flynn's life was recounted in Inherited Risk by Jeffrey Meyers (Simon & Schuster).
One of Errol Flynn's grandsons, sometime model Luke Flynn (birth name Luke Stoecker, born 1976), the only child of Arnella Flynn (1953-1998) and fashion photographer Carl Stoecker, was named one of the world's sexiest bachelors by People magazine in 2003. His mother, a former fashion model, died on the Flynn family estate in Jamaica after a hard life of alcohol and drug addiction.
Errol Flynn is interred in Forest Lawn Memorial Park Cemetery, in Glendale, California. He shares coffin space with six bottles of whiskey, a parting gift from his drinking buddies.
Author Charles Higham published a controversial biography, Errol Flynn: The Untold Story (Doubleday, 1980) in which he alleged that Flynn was a fascist sympathiser and that he spied for the Nazis before and during World War II, but subsequent biographies—notably Tony Thomas' Errol Flynn: The Spy Who Never Was (Citadel, 1990)—have denounced Higham's claims as fabrications. Flynn's political leanings appeared to be of a leftist bent; he was a supporter of the Loyalists in the Spanish Civil War and of the Cuban Revolution.
In popular music, Flynn was the inspiration for the song "Errol" by the '80s rock group Australian Crawl. It was a Top 20 Australian hit in 1981. Sirocco, the LP from which the song was taken, was named after Flynn's yacht.
See also Rafael Sabatini, author of the novels The Sea Hawk and Captain Blood, for the roots of Flynn's screen image.
Filmography
In the Wake of the Bounty (1933) (Australian) Murder at Monte Carlo (1935) Murder at Monte Carlo (1935) The Case of the Curious Bride (1935) Don't Bet on Blondes (1935) Captain Blood (1936) The Charge of the Light Brigade (1935) Green Light (1937) The Prince and the Pauper (1937) Another Dawn (1937) The Perfect Specimen (1937) The Adventures of Robin Hood (1938) Four's a Crowd (1938) The Sisters (1938) The Dawn Patrol (1938) Dodge City (1939) The Private Lives of Elizabeth and Essex (1939) Virginia City (1940) The Sea Hawk (1940) Santa Fe Trail (1940)
External links