Ellesmere Island
From Academic Kids
Missing image
Ellesmereisland.png
Ellesmere Island, in the Arctic Ocean, is the world's 10th largest island, and Canada's third largest island, with an area of 196,235 km2 (75,767 square miles). Ellesmere Island (French: Île Ellesmere) is part of the Arctic Islands of the Canadian territory of Nunavut. In 2001 it had a population of 168.
The island was first sighted by William Baffin (c1584-1616) in 1616. It was named in 1852 by Sir Edward A. Inglefield's expedition after Francis Egerton, 1st Earl of Ellesmere.
More than one-fifth of the island is protected as Quttinirpaaq National Park, which includes seven fjords and a variety of glaciers. Barbeau Peak, the highest mountain in Nunavut (2,616 m) is located in the British Empire Range on Ellesmere Island. The most northern mountain range in the world, the United States Range is located in the northeast region of the island. The northern lobe of the island is called Grant Land.
Large portions (80,000 km²) of Ellesmere Island are covered with glaciers and ice, with Manson Icefield and Sydkap in the south; Prince of Wales Icefield and Agassiz Ice Cap along the central-east side of the island, along with substantial ice cover in Northern Ellesmere Island. Along the northwest coast of Ellesmere Island are some ice shelves, including the Ward Hunt ice shelf which experienced major breakup during summer 2002.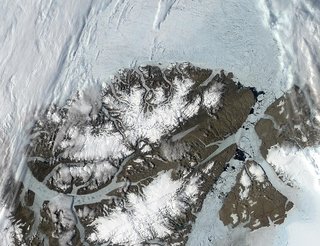 There are three settlements on Ellesmere Island: Alert, Eureka, and Grise Fiord. Politically, it is part of the Baffin Region.
Canadian Forces Station (CFS) Alert is the northernmost settlement in the world. With the end of the Cold War and the advent of new technologies allowing for remote interpretation of data, the overwintering population has been reduced to 50.
Eureka, which is the second nothernmost settlement in the world, consists of three areas, the "airport" which includes "Fort Eureka" (the quarters for military personnel maintaining the island's communications equipment), the Environment Canada Weather Station and the ASTRO Observatory.
External links
et:Ellesmere fr:Île Ellesmere it:Ellesmere Island ja:エルズミーア島 nl:Ellesmere Eiland pl:Ziemia Ellesmere'a fi:Ellesmerensaari