Dong people
From Academic Kids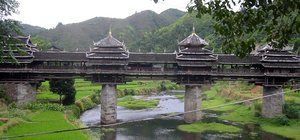 The Dong (Template:Zh-cp; own name: Gaeml, in IPA [kɐm]) people are an ethnic group. They form one of the 56 ethnic groups officially recognized by the People's Republic of China, and are famed for their carpentry skills and unique architecture, in particular a form of covered bridge known as the "wind and rain bridge" (Chinese: 风雨桥). They speak the Kam language, one of the Tai-Kadai languages. Their cuisine prominently features pickled foods and sticky rice.
They live mostly in the Guangxi Zhuang autonomous region and Guizhou province of China.
Famous Dongs
Li Ting: Gold medalist in the 10 meter synchronized platform diving at the 2004 Summer Olympics at Athens, Greece.
Missing image
Dong-minority-bridge-2.jpg