Crater Lake
From Academic Kids
To see the geological feature that goes by the same name, see crater lake.
Missing image
Crater_Lake_from_rim-USGS.jpg
Crater Lake is a lake in Oregon that is 5 by 6 miles (8 by 9.6 km) and 1958 feet (597 meters) deep. It is Crater Lake National Park's most prominent feature and is famous for its deep blue color, water clarity and driftwood. The lake partly fills a nearly 4000 foot (1220 meter) deep caldera that was formed around 6900 years ago by the collapse of the volcano Mount Mazama.
The lake's average depth is around 1500 feet (450 meters). Its deepest point has been measured at 1932 feet (589 meters) deep, though as with any lake its depth fluctuates with the climate, particularly rainfall. [1] (http://soundwaves.usgs.gov/2000/09/fieldwork.html) This makes Crater Lake the deepest lake in the United States, the second deepest lake in the Western Hemisphere (Great Slave Lake is first) and the seventh deepest lake in the world. The caldera rim ranges in elevation from 7000 to 8000 feet (apx. 2130 to 2440 meters).
The Oregon state quarter, to be released in 2005, will feature an image of Crater Lake.
Missing image
Oregon_quarter,_reverse_side,_2005.jpg
See also
Geology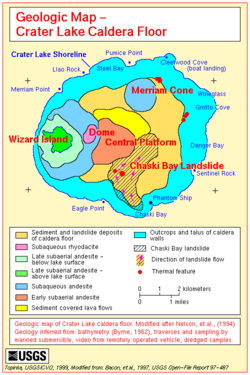 For more detail, see Mount Mazama.
The caldera was created in a massive volcanic eruption that lead to the subsidence of Mount Mazama around 4860 BC. Since that time, all eruptions on Mazama have been confined to the caldera.
Lava eruptions later created a central platform, Wizard Island, Merriam Cone, and other, smaller volcanic features, including a rhyodacite dome that was eventually created atop the central platform. Sediments and landslide debris also covered the caldera floor.
In time, the caldera cooled, allowing rain and snow to accumulate and eventually form a lake. Landslides from the caldera rim thereafter formed debris fans and turbidite sediments on the lakebed. Fumaroles and hot springs remained common and active during this time.
In time, the slopes of the caldera rim more or less stabilized, streams restored a radial drainage pattern on the mountain, and dense forests revegetated the barren landscape.
Some hydrothermal activity remains at the lake floor, suggesting that someday in the future Mazama may erupt again. [2] (http://craterlake.wr.usgs.gov/geology.html)
References
Fire Mountains of the West: The Cascade and Mono Lake Volcanoes, Stephen L. Harris, (Mountain Press Publishing Company, Missoula; 1988) ISBN 0-87842-220-X
Geology of National Parks: Fifth Edition, Ann G. Harris, Esther Tuttle, Sherwood D., Tuttle (Iowa, Kendall/Hunt Publishing; 1997) ISBN 0-7872-5353-7
External links