Communist Party of India (Marxist)
From Academic Kids
Template:Infobox Indian Political Party
Missing image
Cpimflag.PNG
Missing image
CPM_Politburo_1964.jpg
The Communist Party of India (Marxist), or CPI(M), is a political party in India. It is strongest in the states of Kerala, West Bengal and Tripura. In West Bengal and Tripura states, as of 2004, it currently holds the government. It split from the Communist Party of India in 1964 because of what it describes as the latter's revisionism and sectarianism. It claims to have 814,408 members as of 2002.
Missing image
Cpimmobile.jpg
Missing image
Sfikasaragod.jpg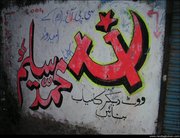 Missing image
Cpmrabindeb.jpg
Missing image
Cpmposterkolkata.jpg
Missing image
Martyrscolumnharipada.jpg
Missing image
Cpmmural5.jpg
Missing image
Cpimkolkatabanglaposter2005.jpg
Missing image
Cpimkolkatahindiposter2005.jpg
Missing image
Cpimkolkatamural2005.jpg
Party Organization
CPI(M) took 5.66% of vote in last parliamentary election (May 2004) and it has 43 MPs. It won 42.31% on an average in the 69 seats it contested. They support new Indian National Congress-led United Progressive Alliance government, but without taking part in it.

In West Bengal and Tripura it participates in Left Front. In Kerala the party is part of Left Democratic Front. In Tamil Nadu it is part of the Progressive Democratic Alliance.
In Hindi CPI(M) is often called मार्क्सवादी कमयुनिस्त पार्टी (Marksvadi Kamyunist Party, abbreviated MaKaPa). The official party name in Hindi is however Bharat ki Kamyunist Party (Marksvadi). In Tamil the party is known as இந்திய கம்யூனிஸ்ட் கட்சி (மார்க்சிஸ்ட்) (Intia Kamyunist Katchi (Marxist)).
Leadership
The current general secretary of CPI(M) is Prakash Karat. The CPI(M) MP Somnath Chatterjee is the speaker of the Lok Sabha (2004). The 18th party congress of CPI(M), held in Delhi April 6-11 2005 elected a Central Committee with 85 members. The CC later elected a 17-member Politburo:
The principal mass organizations of CPI(M)
In Tripura, the Ganamukti Parishad is a major mass organization.
Party Publications
From the Centre, two weekly newspapers are published, People's Democracy (English) and Lok Lehar (Hindi).
Daily Newspapers
Weeklies
Fortnightlies
Monthlies
Ideological Publications
Publishing Houses
Splits and offshoots
A large number of parties have been formed from splits of the CPI(M), such as Communist Party of India (Marxist-Leninist), Marxist Communist Party of India, Marxist Coordination Committee in Jharkhand, Janathipathiya Samrakshana Samithy and Communist Marxist Party in Kerala, Party of Democratic Socialism in West Bengal, Janganotantrik Morcha in Tripura, the Ram Pasla group in Punjab, Orissa Communist Party in Orissa, etc.
Election Results
External links
Articles
Search For Ways To Keep Marx Alive (http://www.telegraphindia.com/1050331/asp/opinion/story_4549192.asp) Opinion on party structure by Sumanta Sen. The Telegraph Calcutta, India. March 31, 2005. Accessed April 1, 2005.
Veteran Communists Honoured (http://www.hindu.com/2005/04/07/stories/2005040708001100.htm) News article on Party history conference. The Hindu. April 6, 2005. Accessed April 8, 2005.
An Upbeat Left (http://www.hinduonnet.com/fline/fl2209/stories/20050506002101600.htm) by Venkitesh Ramakrishnan. Frontline Volume 22 - Issue 09, Apr. 23 - May. 06, 2005
Party related websites
See also