Chief Master Sergeant
From Academic Kids
Chief Master Sergeant is the ninth, and highest, enlisted rank in the U.S. Air Force, just above Senior Master Sergeant, and is a non-commissioned officer. Chief Master Sergeants are addressed as "Chief."
Attaining the rank of Chief Master Sergeant is the pinnacle of an enlisted Air Force member's career. Some Chiefs manage the efforts of all enlisted within their unit or major subsection thereof, while others run major staff functions at higher headquarters level. All Chiefs are expected to serve as mentors for junior and mid-grade commissioned officers as well as noncommissioned officers and to serve as advisors to commanders and senior officers.
By law, only one percent of the Air Force enlisted population may hold this rank.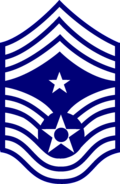 Missing image
Afg-041214-069.jpg
The position of Command Chief Master Sergeant was created in November 1998. Formerly titled Senior Enlisted Advisor, Command Chief Master Sergeants, or Command Chiefs, serve as senior advisors to commanders at Wing, Numbered Air Force, Field Operating Agency and Major Command levels. When the senior enlisted position of a joint command is held by an Air Force member, that individual is also designated as a Command Chief.
There exists one post, Chief Master Sergeant of the Air Force, which is unique. The holder of this post represents the most senior enlisted member in the U.S. Air Force. The current incumbent is CMSAF Gerald R. Murray.
External links
Related articles